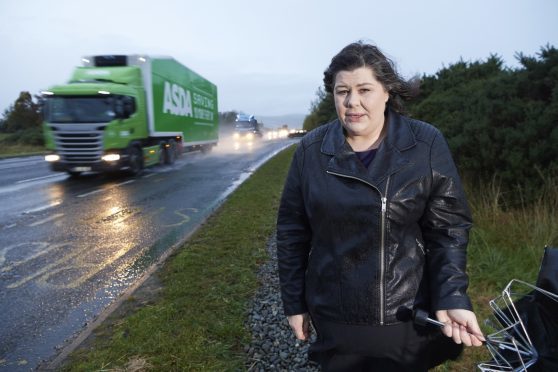 A Black Isle councillor has warned that "lives are at risk" for residents waiting on a grass verge by a busy dual carriageway each day for a connecting bus to Inverness.
Craig Fraser, local campaigners and MSP Kate Forbes have pushed Highland Council to go to tender to reinstate a commuter service from Culbokie to the city.
A local authority re-tendering exercise for subsidised bus services to the village meant Stagecoach lost its franchise to D&E Coaches in April, resulting in a limited service.
Culbokie residents now have to catch a connecting D&E-run bus, or walk two miles to Duncanston crossroads on the A9 dual carriageway, where they have to flag down a passing bus to Inverness.
Local campaigner, Norlil Charlton, said previously the loss of the service has "isolated" people with mobility issues and disabilities, and those who don't drive.
It followed a report published this week by national transport charity Sustrans revealed Culbokie was among 20% of neighbourhoods in Scotland affected most by transport poverty.
Yesterday Mr Fraser said: "I have stressed the only solution is a through bus at commuter times, morning and evening, or the creation of the community transport idea.
"We want to get more people on buses and this is moving people off the bus.
"Add in poor light conditions at early morning or evening in the winter, it's an accident waiting to happen.."
Highlands and islands MSP Kate Forbes said: "I fully share the concerns of those in Culbokie who still do not have access to a direct commuter service to Inverness.
"I've experienced first-hand how tricky it is for commuters to get on the first D&E bus, run down the side of the A9 and hope the Stagecoach bus is on time."
A council spokesman said: "The council does not have any funding to provide this new service so it will require a decision by councillor as to whether the service can be provided and where money to operate comes from. The transport team are in talks about a potential provision with a local community transport provider.""