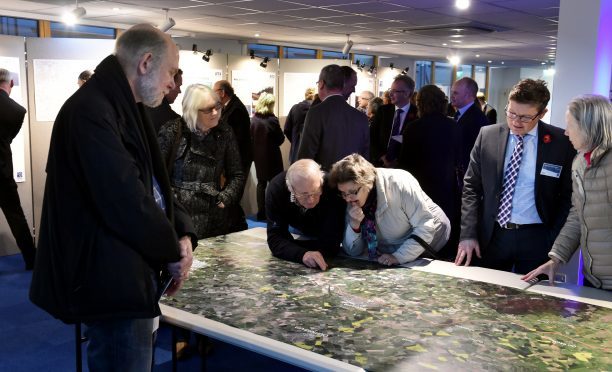 Hundreds of people went along to the first of three 'meet the team' events taking place this week for the long-awaited A96 dualling project.
Filling the newly opened Garioch Heritage Centre in Inverurie yesterday, hosts Transport Scotland welcomed the huge turnout and project manager John MacIntyre said it was great to see so many people.
He said: "We are really just at the information gathering stage and would welcome any feedback online.
"A year from now we will come back with the route options and further on from there the preferred option with an additional two years for design."
Three events are being held this week to let the public meet the people designing the east of Huntly to Aberdeen A96 dualling scheme.
A number of route options near Inverurie are being considered and some encroach upon Bennachie and the surrounding area.
Having formed to raise awareness of the possible danger to the landmark, the Save Bennachie Alliance now claims "tens of thousands" of supporters including Mountaineering Scotland, the Bailies of Bennachie and the Woodland Trust.
Alliance secretary, Margaret Garden attended yesterday's public exhibition and explained why they thought the site should be kept out of any proposed routes.
She said: "From Pictish times to the present day, Bennachie has been beloved by people not only in the Garioch, but nationally and internationally.
"It has been dubbed as one of the most loved hills in Britain by the Royal Geological Society; it is the heart of the Garioch.
"It is such a special place, not only because of the rare species and wildlife living there, but it is well used locally by walkers, runners and cyclists alike."
One visitor welcomed the inclusion for non-motorised users in the plans.
Donald Thomas, a retired hospital consultant, said: "I'm delighted to see that they have included some thought for cyclists. The AWPR haven't taken that into consideration at all."
Another resident from Insch who did not wish to be named said he was anxiously waiting to see where the road would go and would have to consider "selling up" if it comes near his house.
Today the team will be in Stewarts Hall, Huntly between noon and 7pm and will tomorrow move to Kinellar Community Hall, Blackburn also between noon and 7pm.