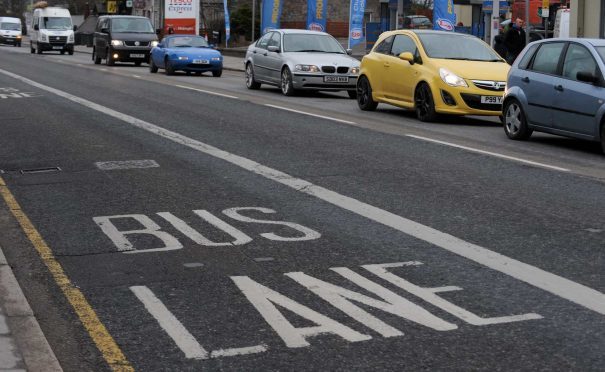 Aberdeen council chiefs are laying the road to allow motorcyles to drive in city bus lanes – after nearly 20 years of campaigning by bikers.
Road testing and consultation will now be carried out by council officers with two-wheel vehicles potentially being accepted by next January.
Being able to use bus lanes for motorcycles has been an issue in the city for many years, with bikers demanding transport chiefs use the lanes from as far back as 1999.
The latest move has been prompted following a petition by local residents.
Campaigners Stewart McCann, Caroline Hood and Andrew Winstanley said that motorcyclists made up only 1% of road users but 19% of road deaths, adding many car users did not allow motorcyclists to pass through, which could result in safety concerns.
It was also highlighted that pedal cyclists could use bus lanes at present but not motorcycles
A case study was carried out in 2011 in London and during the trials, it showed that allowing motorcyclists to use bus lanes meant a reduction in journey times and also a reduction in pollution, they told the council's petitions committee.
Petitions convener Claire Imrie said the new measures would help the council reduce emissions and speed up traffic flows in the city.
She said: "I think it is great that we are looking at this.
"Motorcycles will pass through traffic quicker meaning there will be less emissions from standing still. It'll also hopefully mean that gridlock is reduced and people can get from A to B easier."
But SNP infrastructure spokesman Michael Hutchison said it was a shame the process was taking so long.
He said: "I'm disappointed that it now looks like we'll have to wait another year to get a report on something that has been in the Local Transport Strategy since 2016."