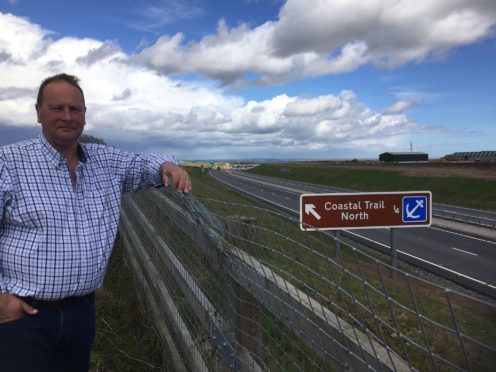 A Balmedie businessman has voiced his anger at tourist signs on the new dual carriageway claiming the village has been "totally ignored".
James Duthie's farm has been split in two by the new Balmedie to Tipperty road which is being built to help reduce traffic.
While making his daily trip to check fields on the far side of the soon-to-opened carriageway this week he discovered a new sign had been erected.
The brown Coastal Trail North sign directs motorists to take the new Foveran junction to start their meandering route along the Aberdeenshire coast – beginning their tour in Newburgh.
However, Mr Duthie, who also runs a bed and breakfast business from his farm at Aitkenshill, thinks the sign should be placed further south on the road at Blackdog.
He said: "There just doesn't seem to have been any kind of joined-up thinking at all – they have totally ignored Balmedie.
"If tourists see the coastal sign back at Blackdog, they would come off there and then follow the old A90 – where they could then come and see the famous Balmedie sand dunes.
"We will be affected by a lack of passing trade, as will the other businesses in the village and along the old road before Foveran."
A Visit Scotland spokeswoman said the organisation had no responsibilty for the signs. She added: "Visit Scotland is only responsible for approving eligibility for its Quality Assurance Scheme members to apply for signage and is not
responsible for approving signage – that is at the discretion of the local authority for local roads and Transport Scotland for trunk roads and motorways."
The Coastal Trail advertised on Visit Aberdeenshire's brochure lists Balmedie Beach as "award winning" and "the perfect place to spend a sunny afternoon".
The NE250 tourist route also directs drivers towards Balmedie, before heading to Newburgh to continue their travels.
Last night a Transport Scotland spokesman said there were no plans to move any signage, he added: "We can confirm that the signing strategy, including brown tourist signs, for the AWPR/Balmedie to Tipperty project was subject to extensive consultation with the relevant roads authority prior to finalising details."