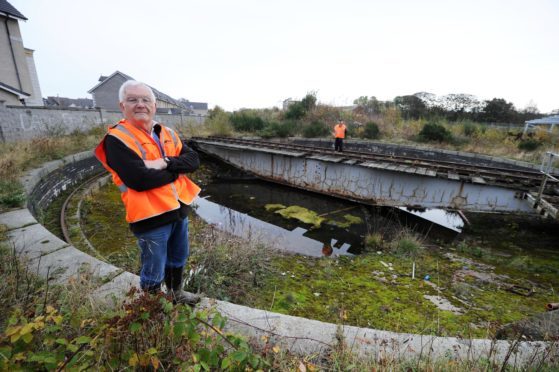 He was one of the north-east's most enthusiastic railway aficionados, a man with a deep-rooted passion for steam engines.
And friends and colleagues have expressed shock at the sudden death in Aberdeen of David Clucas, aged 72.
Just last week, the former helicopter pilot and current secretary of the Ferryhill Railway Heritage Trust was relishing the installation of a new £86,000 turntable in the city and talking excitedly about the prospect of future steam charter services boosting tourism in the region.
It was a campaign which he and his volunteer colleagues had undertaken with unstinting commitment.
The trust's chairman, Jon Tyler, spoke with a mixture of sadness and admiration following the loss of Mr Clucas, who suffered a fatal heart attack on Monday.
Mr Tyler said: "He loved being involved with machines and trains and his contribution to everything we did was massive, so he will be a very hard act to follow.
"It was his hobby, but he flung himself into all the trust's activities and his efforts were one of the reasons we have made so much progress at Ferryhill.
"I am glad he was there to see the turntable being restored, but this is very sad news."
Mr Clucas served in the Army, prior to flying helicopters in the North Sea, and worked at Campmuir Ltd in Inverurie before retiring in 2005.
In addition to his exertions for the trust, he also had a long-time involvement with Aberdeen Model Railway Club.
The organisation paid its own tribute, saying: "Dave had been a member for over 30 years, only missing club nights recently because of his involvement with the trust.
"We are so glad he saw the turntable return, but so sad that he won't see it in use, because it was a project he had been working towards for the last 10 years.
"Dave's train has left the station, but he will always be on the timetable."
Mr Clucas' funeral will take place at Baldarroch Crematorium in Crathes on Monday May 7.
And it will surprise nobody that he has asked for any donations, in lieu of flowers, to be given to the trust.