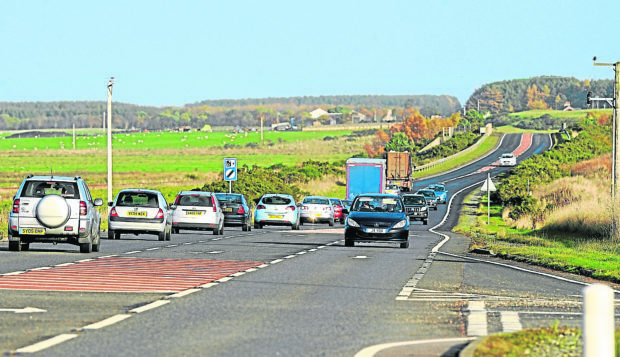 Rural Moray residents breathed a sigh of relief last night as road bosses scrapped proposals to route a new dual carriageway through their quiet community.
Transport Scotland aims to have the dualled A96 Aberdeen to Inverness road completed by 2030, and formed a shortlist of options for how it will pass from Hardmuir to Fochabers last year.
People living in and around Dyke feared that one option to direct the £50million section through the area north of Forres could have disastrous consequences, including weakening flood defences, and rallied against the plans.
The contentious proposal was removed from the drawing board yesterday, with Transport Scotland citing public feedback as a factor.
Dyke Community Council member, Steve Arkley, spearheaded objections to the proposal and hailed the influence of people power in forcing the rethink.
Mr Arkley said: "This brought the community together, we had several meetings where people with different areas of expertise came together.
"I now know people I would not have otherwise, and it was heartening to hear how passionate they were about this area.
"In Moray we are lucky to have some truly spectacular countryside, and the proposal to run the road over the flood alleviation scheme could have created major problems down the line."
Campaigners previously raised concerns that building the 260ft wide road across flood plains beside the River Findhorn would increase the chances of homes in Forres becoming swamped during bouts of heavy rain.
Despite his relief, Mr Arkley said his thoughts were with people in other parts of Moray still battling to convince transport chiefs to direct the new A96 away from their homes.
He added: "We are pleased ourselves but we know many people impacted by potential southern or central routes so this is not a cause for celebration.
"Our strategy was to say nothing about the other possible routes, only to focus on the reasons why it would be difficult or impractical to build the road north of Forres."
Four other options have been stricken from Transport Scotland's plans, as detailed in an update published yesterday.
They are Easter Newforres to Hardhillock, Linksfields to Cowfords, Troves to Balnacoul Wood and Forres Enterprise Park to Kintrae – except the easternmost extent.
An accompanying statement said: "All decisions regarding the route selection process have been carried out whilst taking into account engineering, traffic, economic and environmental factors, as well as the vital feedback received from stakeholders and members of the public."
Another option for the dual A96 road was discarded after provoking fury from some of Moray's most peaceful residents.
The monks who live at Pluscarden Abbey, on the outskirts of Elgin, were horrified when it emerged that two options for dualling the route between Forres and Fochabers would cut through their picturesque valley.
The Benedictine community said that sending traffic streaming past the 13th century landmark would destroy their way of life, which is devoted to quiet contemplation.
When the proposal was first tabled three years ago, Brother Michael de Klerk said it would have a "catastrophic effect" on the site.
He said: "Of all the special qualities of the abbey, it is the sense of peace which is by far the most remarked upon.
"It is hard to imagine how a busy thoroughfare, bearing noisy traffic day and night, could fail to have a serious impact on such a sensitive setting.
"This is a fearful prospect for anybody who values freedom to roam in the valley, which is undoubtedly one of the attractions for anybody who lives or visits here."
Following two years of unrest, Transport Scotland ruled out the development last June.
Economy Secretary at the time, Keith Brown, confirmed that studies had shown the rural route suggested near Pluscarden was not viable.