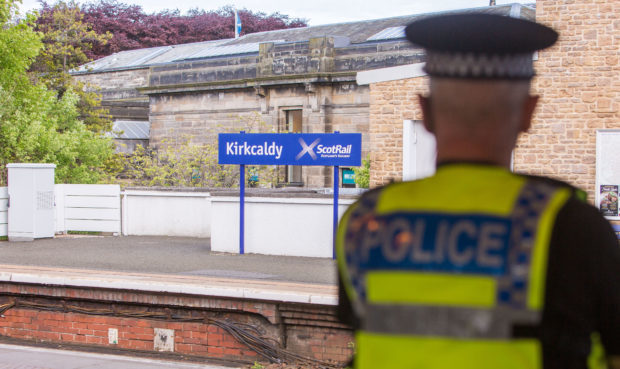 Transport police have been unable to investigate the incident in which a toilet-seeking Aberdonian trespassed on railway lines in Fife because ScotRail's CCTV system was rebooting at the time it happened.
The man brazenly crossed back and forward across the tracks at Kirkcaldy station at around 5.30pm on Tuesday October 16 in front of a busy platform.
His actions, described by one politician as "a shocking stunt" were witnessed by a number of people, including children, but apparently missed by ScotRail staff.
Despite it happening just outside the station's waiting areas, there is no footage of the incident.
Mid Scotland and Fife MSP Claire Baker said the fact a trespassing incident at Kirkcaldy Railway Station could go unrecorded raised questions about safety at Kirkcaldy and other stations.
Man brazenly crosses the tracks at Kirkcaldy Railway Station explaining 'Aberdonian, needing the toilet'
"Considering the current catchphrase at stations across the country is 'see it, say it, sorted', many passengers would be shocked to learn that ScotRail was unable to see anything at the time of a major incident," said the Labour MSP.
ScotRail said CCTV coverage is in place at the station, but the system went down for about quarter of an hour around the time of the incident while computers were rebooting.
The CCTV blackout means it is virtually impossible to identify the man, who jumped down from platform two and crossed the tracks before telling travellers on platform one, "Aberdonian, needing the toilet".
He then entered the station building and used the facilities, before crossing the tracks for a second time and leaving by the exit at platform two.
A spokesman for the British Transport Police confirmed officers would be taking no further action "unless further investigative opportunities come to light".
Mrs Baker added: "Questions have to be asked as to why the CCTV was being rebooted and, considering ScotRail was aware it was happening, why was there no staff member present on the platform."
---
>> Keep up to date with the latest news with The P&J newsletter
---
ScotRail said the CCTV at the station had to be reset because of a technical fault and while that took place no footage could be recorded by the cameras.
The rail operator said the problem had been resolved and CCTV at the station was now fully operational.
Local Labour MP Lesley Laird said: "Trespassing over rail tracks is utter folly but sadly, according to Network Rail, too many people are still risking their life carrying out shocking stunts just like that witnessed in Kirkcaldy.
"This man should never have been able to cross the lines a second time."
ScotRail was hit with fines totalling £2,241,837 between January and June for failings in areas including train cleanliness, toilets and litter at stations.