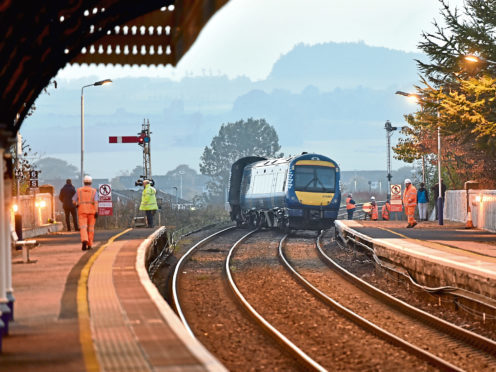 No further investigations into the derailment of a train at Stonehaven can be justified, a report has said.
The Scotrail train was travelling under the speed limit when it came off the tracks just before 6pm on October 10.
Following the incident, the route between Aberdeen and Dundee was shut to all trains travelling both north and south until the evening of October 12, to allow for extensive repairs and investigations into the cause of the accident.
In a report published yesterday the Rail Accident Investigations Branch (RAIB) said it had ruled out a number of areas as potential causes.
Two inspectors visited the train in the wake of the accident, and concluded that the derailment was not caused by the condition of the track, signalling infrastructure, the train itself, or the way it was being driven.
The RAIB report stated that the "potential for safety learning is insufficient to justify further investigation".
It added: "The RAIB will share evidence with the railway industry parties involved, to assist them with their own investigations into this accident."
Last month it emerged the driver of the derailed train had been suspended after a routine drugs and alcohol test was carried out following the derailment.
The drug traces identified in the test are still to be confirmed, and it is unclear whether it was claimed to be prescription drugs.
The driver and guard were the only people on board the train when the accident took place – and both were unhurt.
The track was damaged along with minor damage on the train.