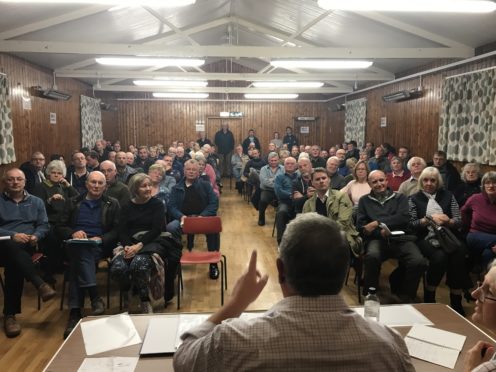 Community-led drop-in meetings are being held this week across the Garioch area to give residents information on the A96 dualling routes proposed between Inverurie and Huntly.
Hundreds of residents have already attended meetings held in village halls along the routes that Transport Scotland recently published.
The deadline for giving feedback on the proposals is Thursday, November 22.
The A96 Action group is urging all residents of Kintore, Keithhall, Uryside, Inverurie, Bourtie, Lethenty, Daviot, Wartle, Pitcaple and other areas affected to attend their meetings this week.
A group spokesman said: "We want to reach as many people as possible. A lot of people will be affected by this and we feel many are still not aware of the routes at all.
"A staggering 63 farms would be split by the blue-green-violet route, according to our expert.
"This equates to a loss of agricultural output of around £760,000 per year, based on barley alone. The proportion of higher value crops would mean an even greater loss."
The first drop-in meeting is tomorrow night in Keithhall Village Hall between 7pm to 9pm. A public meeting is being held at Daviot Village Hall on Thursday at 7pm and a further drop-in meeting will take place in Kintore Village Hall on Sunday between 6.45pm and 9pm.
Transport Scotland said community engagement had been "at the heart" of all the proposed road schemes and held its own public information meetings last month in several locations across the area.
Anyone wishing to give feedback on the project can do so by emailing: a96dualling@transport.gov.scot or by post to: A96 Dualling Team, Transport Scotland, Buchanan House, 58 Port Dundas Road, Glasgow G4 0HF
More information on the A96 Action group can be found at: www.a96action.com