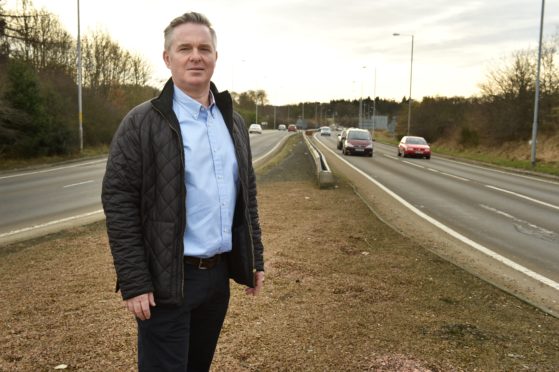 Fresh calls have been made for transport chiefs to scrap plans to change the route of a major north-east road.
Transport Scotland is currently consulting on the preferred routes of the A96 Aberdeen to Inverness, between Inverurie and Huntly.
There are a number of options on the table but, controversially, doubling the existing route has been left off the table.
Gordon MP Colin Clark claims the majority of people he has spoken with are in favour of such a proposal.
A survey on the politicians Facebook page has also borne this out, with almost 80% of the 300 people who took part calling for the current route to be followed.
The survey offered four options – to go through local farmland, follow the existing route and dual where necessary, to abandon the plan altogether or pursue another option.
Mr Clark – who has been open about the proximity of his house to one of the options – said:  "The proposed routes north-west of the current A96 are attracting a lot of negative comments.
"My constituency inbox is overwhelmingly full of people outraged by the environmental damage these routes could cause.
"I have made clear for the record that I live along one of the proposed routes, but that should not preclude me from representing the views of my constituents.
"I can only put forward the views of local people, as I will have no say on which route is chosen.
"Major projects like these are never easy, but I would urge the Scottish Government to listen to the people, who are making their views very clear."
A spokesman for Transport Scotland said: "All of the feedback and comments that we receive, including that from local residents, landowners, community councils and other key stakeholders, will help to inform the design and assessment process being undertaken to develop the scheme proposals."
Last night, Transport Scotland encouraged residents to go to the exhibitions in order to speak to team drawing up the plans.
A spokesman said: "We have started advertising these events in both the media and with posters in many locations in the areas covered by the scheme to let local communities and road users know and so they can have their say.
"We would encourage anyone interested in our plans to come to the exhibitions next month and offer any comments."
The consultation closes later today.