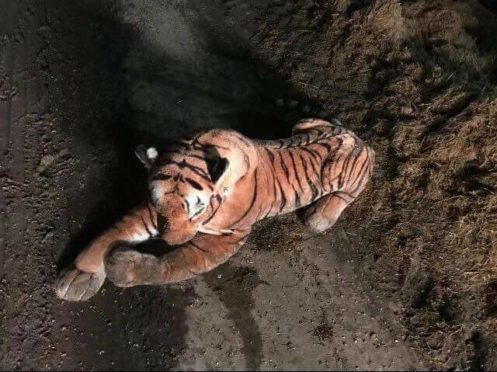 With 2018 now firmly in the rear-view mirror, it's time to take a look back at our favourite stories of the year.
So much has happened over the last 12 months that it was difficult to select just 10, but we have wracked our brains and come up with a mixture of amusing, bizarre and interesting tales we hope you'll enjoy.
Let us begin by stating that, for the avoidance of doubt, tigers are not native to Aberdeenshire and you are extremely unlikely to see one roaming the streets.
But back in February, police were scrambled to a farm in Hatton after reports of a huge jungle cat ready to pounce on an unsuspecting farmer. As it happened, it wasn't a real tiger after all and the police cancelled their mayday call to Siegfried and Roy.
Armed police scramble to north-east farm after farmer mistakes stuffed toy for real tiger
Hey, remember that time a giant black pudding saved a life? No, seriously.
Butcher Chris McCabe will be forever in the delicacy's debt for its role in battering down a freezer door back in January.
Aberdeenshire black pudding saves life of butcher trapped in freezer
Whenever something goes wrong with your train trip, a quick look at Twitter would suggest the done thing is to log in and spit venom at ScotRail's official account from a safe distance.
However, James Owers took a more health conscious approach to his disappointment of not being able to get his bike on a train from Edinburgh to Inverness back in June by cycling the entire route instead and managing to beat the train he was meant to be on there. Impressive!
Cyclist 'beats' train from Edinburgh to Inverness after leaving it too late to bring bike on board
In October, we told the heart-warming tale of Gary Campbell's Multiple Sclerosis drug trial.
At age 30, Gary's body was failing him as the most brutal form of the illness ravaged his system. Bedridden and in constant pain, he was forced to give up his job and cease playing with step-son Kye, as the illness left him repeatedly hospitalised.
Little more than a year later, he went two months without a hospital visit and is walking again thanks to the "life-changing effects" of a potentially ground-breaking medication.
VIDEO: A Highland MS sufferer is walking again after a ground-breaking medical trial
The Beast from the East wreaked havoc on the north and north-east of Scotland in late February and early March and for many, the icy roads meant you had the perfect excuse for a duvet day.
We wouldn't blame you if did, we know you deserve you a break. But hats off to 22-year-old Sarah Philips from Kirkton of Skene, who refused to be beaten by the weather and turned up at her work in Dyce after borrowing her dad's tractor to battle on through the snow.
Aberdeenshire woman beats the Beast from the East by taking dad's tractor to work
The Aberdeen Assassin has met and conquered plenty of fierce competition in his career, but in August boxer Lee McAllister was pitted against his fiercest-ever foe.
Well, not really. But his plans to transform a fire-hit former school, which he wanted to transform into a £10m fitness complex, put him directly on an unexpected collision course with Parkhill Garden Centre, who were desperate for a move to protect them from salt spray from the AWPR over the winter months.
Garden centre goes head-to-head with boxing champ over school buyout plans
Two of the biggest names in wildlife television were at loggerheads this year over the fate of an 11-year-old boy in Ullapool.
No, Black Mirror is not running out of ideas, this actually happened back in October when Finlay Pringle was sacked as a shark ambassador for calling Bear Grylls "the worst chief scout ever" for keeping sharks in a tank at his £20m adventure park.
Finlay was removed as an ambassador for being too outspoken, prompting BBC Springwatch presenter Chris Packham to leap to his defence. The youngster has since been appointed as an ambassador for a different marine charity.
Schoolboy, 11, sacked over row with Bear Grylls gets a second bite at his shark job
We may be 42 years on, but in November we were fascinated when the police revealed fresh details about the disappearance of Renee Macrae and her young son Andrew.
But whether police are genuinely any closer to solving one of the most intriguing and high-profile murder cases in Scotland remains to be seen.
Suitcase could be the clue to finally solve Renee MacRae mystery
Not everyone's party trick in the pub gets them 400,000 hits, but an Orkney musician enjoyed a bit of fame when his lightning-quick rendition of an old country song surfaced online.
Graham Low has been learning his trade at Orkney Auction Mart for around four years and on this evidence, we imagine he's not half bad at it.
VIDEO: Silver-tongued Orkney musician becomes a hit online after this incredible rendition of an old country song
It's tempting just to leave the headline for our final selection here and say nothing else because frankly, um what?
As stated above, ScotRail may have developed a reputation online for unreliability but what better to shut the nay-sayers up than by unveiling a multi-million pound fleet of high-speed trains and showing how reliable they are?
Oh.
New Scotrail train breaks down because driver tooted horn too much