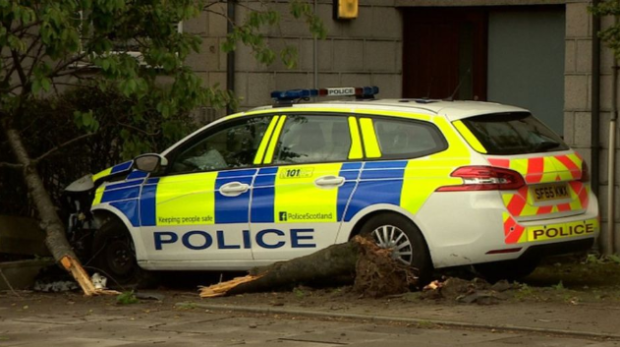 The number of incidents involving police vehicles crashing while pursuing suspects has more than tripled over a four-year period.
New figures have revealed that in 2017, there were 43 collisions involving such vehicles, compared to just 13 in 2014.
And between January and the start of November last year, a total of 40 crashes were recorded.
Incidents involving Scottish police vehicles in all collisions has also drastically increased over the period, from 806 in 2014, to 1,385 in 2017 – with 1,147 between January and November in 2018.
The recorded crashes included an officer's car colliding with another car on Cornhill Terrace in Aberdeen in 2017, while chasing a missing prisoner who was on the run.
In June 2016, another police car was involved in a crash in Aberdeen, when an officer answering a 999 call collided with another vehicle on Ashgrove Road.
And, in early 2017, a police dog died after a crash involving a marked police dog van on the A90 Peterhead to Ellon road, close to Cruden Bay.
The new figures were released following a freedom of information (FOI) request.
Joshua Harris, director of campaigns at road safety charity Brake said: "The police perform a vital service on our roads and the nature of this role does sometime require different road behaviours to those expected of the public.
"However, the increase in crashes and injuries involving police vehicles in Scotland does raise concern and we would like an assurance that this issue is being looked into, and that the necessary policies and procedures are in place to minimise the risk to the public."
A spokesman for Police Scotland said all officers must complete a driving course before being allowed on the road.
Deputy Chief Constable Fiona Taylor said: "Our fleet travels more than 70 million miles across Scotland every year.
"The figures contained within the FOI refer to police vehicles driven by officers, as well as hire vehicles used by staff.
"They include collisions caused by other drivers.
"A collision can vary from a serious road traffic collision, to minor vehicle damage.
"Where we believe a road traffic offence has occurred, we investigate the circumstances and take appropriate action."