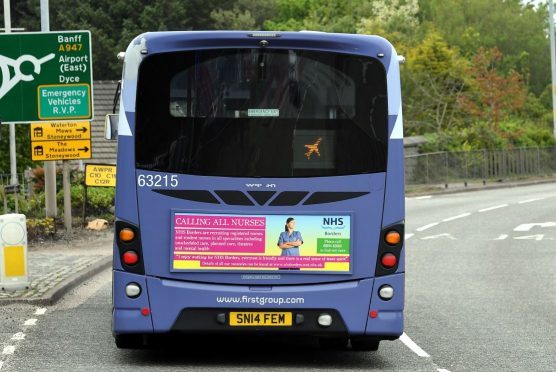 Residents of an Aberdeen community have been left "livid" after their bus service was changed – leaving them to tackle a steep hill to get to the nearest stop.
The number three First service has been re-routed away from the top of Midstocket Road and along Camperdown Road, leaving many with a long walk.
Meanwhile, residents of Camperdown Road are unhappy that three services are now using their relatively narrow street, and claimed there had been no warning of the changes.
There had been similar struggles a decade ago over the re-routing of a previous service but the number three ended up covering the route.
Jane Paterson, 80, who has lived on Midstocket Road for 21 years, suffers from rheumatoid arthritis and said she now struggled to travel the distance to the nearest stop, particularly in icy weather.
She said: "I'm really livid about it- I couldn't sleep because I was so angry.
"There used to be a regular bus service that was well used, I'm absolutely disgusted that they have done this without telling anyone.
"It is not just me, I've seen people struggling in wheelchairs to get up and down Midstocket.
Ian Haw, a resident of Camperdown Road, was angry that now three bus services were regularly coming down the side street.
He said: "We now have the 23, 14 and three pass through the street, it can causing problems with driving in and out.
"We were given no warning and I only learned about it from my neighbours."
Local councillor Bill Cormie said a meeting had been arranged between First and council transport bosses to come to a solution.
He said: "We went through all this in 2009 and I'm disappointed that to hear that residents are again having problems.
---
>> Keep up to date with the latest news with The P&J newsletter
---
"I have heard because of the changes some of the drivers now are going down the wrong streets. The whole situation is a dog's breakfast and people should not be put through this.
"It is causing severe problems particularly for my older constituents."
David Phillips, operations director for First Aberdeen, said: "The decision to alter our number three service was taken to address a number of safety concerns on the route due to parked cars and accessibility issues in the local area.
"First Aberdeen followed the correct four-week consultation process with the local authority on the most recent changes, as is standard procedure, but Aberdeen City Council has since been in touch indicating they wish to discuss revisiting the issues involved.
"We are happy to engage with them on this issue as well as any local councils or other stakeholders who wish to get in touch to discuss the matter. Safety of both our passengers and that of our staff has to be our number one priority in these circumstances and something we cannot compromise on."