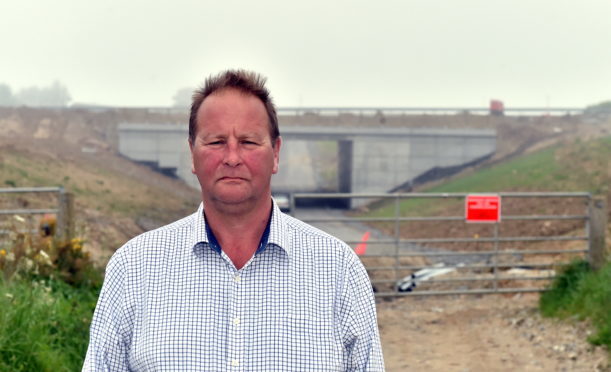 North-east farmer James Duthie is seeking more than £1 million from the Scottish Government to compensate for lost land, damage and disruption caused by the Aberdeen bypass.
Mr Duthie said the cash is needed to build new fences, install drainage systems and to improve access to his farm after it was "severed" from its surroundings by the Aberdeen Western Peripheral Route (AWPR).
The AWPR has split Mr Duthie's 300-acre Aitkenshill Farm in half, along the Balmedie to Tipperty stretch of the new road.
Stonehaven businesses 'out the door' with customers from AWPR
As part of his compensation claim, Mr Duthie also says he has not had access to a new underpass built to link the two different parts of the farm.
This has left him a three mile journey to reach land which is only a few hundred yards away as the crow flies.
Mr Duthie's claim has gone to the Lands Tribunal for Scotland, the forum for dealing with property disputes.
The farmer said the Scottish Government had asked for the case to be put on hold until July to allow for further investigation.
"We are looking for compensation for the damage they have done during the work," Mr Duthie said.
"It is fencing issues. It is drainage. New tracks require to be built. Flood work's not been finished, tree-planting is not finished.  There are so many things.
"It is over one million pounds."
Earlier this year, figures suggested almost 100 landowners beside the AWPR had contacted the Lands Tribunal in relations to compensation.
Transport Scotland has previously estimated that £135.9 million will be paid out in compensation.
Mr Duthie said a contractor had estimated drainage work would cost £100,000 and he claimed he had only been partly paid for farm land that was needed to build the road.
Despite being told he would be able to use the new underpass by June last year, Mr Duthie said he still did not have "legal access" to the crossing.
Mr Duthie said fencing was needed on both sides of the AWPR to keep his livestock in fields.
A 900 metre access road to 85-acres of trees on the farm is also needed, as well as a road to the underpass.
A Transport Scotland spokesman said: "As with all trunk road projects, owners of land purchased for the AWPR and Balmedie to Tipperty schemes will receive fair compensation, independently assessed by the District Valuer.
"It would be inappropriate to comment on individual cases until agreement is reached between the District Valuer and the landowner."