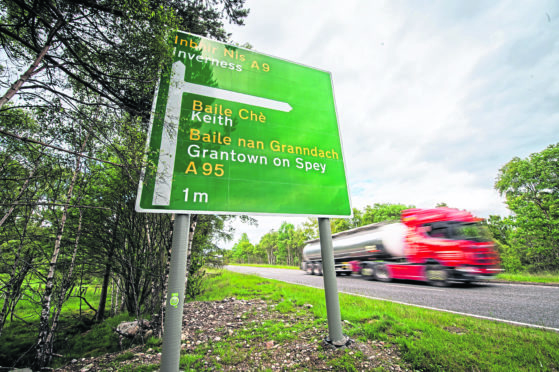 Moray's biggest town has been put back on the map after it was temporarily taken off during a revamp of road signs.
Motorists used to be directed towards Elgin when turning off the A9 Inverness to Perth road near Aviemore.
But once signposts were reinstated following a Transport Scotland review of the junction with the A95 Aviemore to Grantown road, its name had been replaced.
Signs instead bore a new name. That of Keith.
The decision prompted confusion about why Moray's largest town had been overlooked – and concern it could impact upon business and tourism.
Now Transport Scotland has committed to adding a new sign at the junction, north of Aviemore.
It said Keith's location made it more important for road signs, while the need to include Gaelic translations had subsequently left no space for Elgin.
Moray MSP Richard Lochhead said he had been "surprised" to see the town left off the new signs.
He said: "This issue was raised with me by individuals involved in Moray's tourism sector, with some local businesses concerned the change could affect visitor numbers to the area – particularly given that Elgin is such a large community.
"Big efforts are being made to embrace Moray's potential as a world class visitor destination and it is essential that Elgin is put back on the map."
Transport Scotland has explained that Keith was selected over Elgin for the sign due to it being on the junction of two trunk roads, the A95 and the A96 Aberdeen to Inverness road.
The agency added that it was restricted to just three destinations on signs due to Scottish Government rules that require information on the A9 to be bilingual with Gaelic place names.
A spokesman added: "It is recognised that Elgin was formerly signed from the A9 at Aviemore for northbound road users and its omission from the current signs may have caused some anxiety for local residents and business proprietors.
"Therefore, it is proposed to install a supplementary direction sign on the A9 approach to the junction indicating the destination of Elgin which can be accessed by following the A95 trunk road."