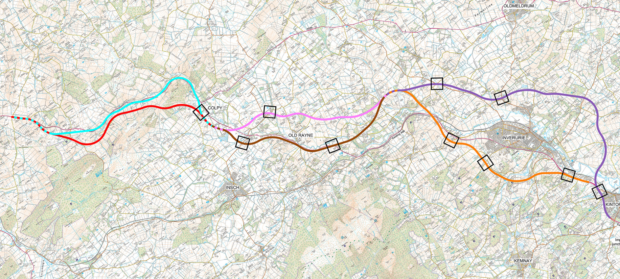 A rural Aberdeenshire community fears it could be "sandwiched" between existing roads and plans for a new, dualled A96 Aberdeen to Huntly road.
Members of the Colpy and Culsalmond community group have written a letter to transport bosses expressing concerns over some of the proposals for a new and improved A96.
According to the group, local residents worry the shortlisted options could create safety problems, harm the natural environment, and devalue their properties.
In particular, the group fears residents living near the existing A96 and the A920 Oldmeldrum to Colpy road could be squeezed in between the current road networks and a busy new carriageway.
In a letter sent to Scottish transport secretary Michael Matheson, the community group said: "Currently, the A96 and A920 road network runs through Colpy and Culsalmond with little impact on our sought-after rural and family community life.
"There are serious concerns over the potential sandwiching of properties caught between the existing A96 and A920 roads, and the new dual carriageway.
"These existing roads are most likely to be used as access routes for the new A96, servicing the increasingly developing commuter town of Insch and surrounding settlements.
"This will almost certainly have very significant, compounding negative environmental and safety consequences for those affected."
The letter added: "The impact and consequences of this situation on our lives and livelihoods are of the utmost concern to us all, as individuals, families and a community."
A spokesman for Transport Scotland said: "For all major road projects, like the A96 dualling east of Huntly to Aberdeen scheme, our design and assessment process is rigorous and considers many different aspects including environment, road safety, accessibility and engineering.
"Having let local residents see and comment on the initial options last October, we held further engagement events last month for the remaining options being taken forward for further assessment and over 1,300 people took the opportunity to come along and view the material.
"All vital feedback received following these engagement events, including the comments from Colpy and Culsalmond Community Group, will be taken into consideration as we look to identify a preferred option for the scheme later this year."