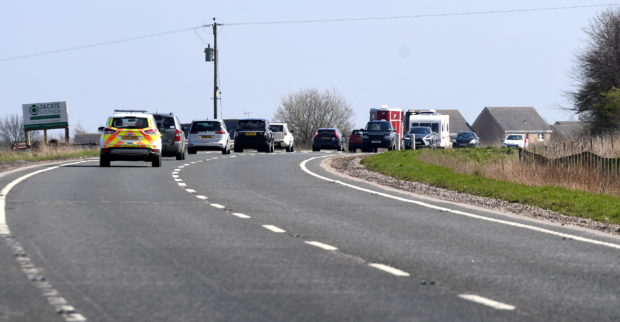 Safety campaigners say the A96 Aberdeen to Inverness road must be dualled as swiftly as possible in the wake of a ninth death in 12 months.
Multi-million-pound plans are in place to turn the entirety of the 99 miles of A96 between the two cities of the north of Scotland into a dual carriageway.
The project is not, however, expected to be completed until 2030 at the earliest.
In the meantime, the main route between the north-east and north boasts just 13 miles of dualled carriageway between Inverness and Aberdeen.
And while work is already underway on various aspects of the project, calls have been made to speed up the process to improve safety on the road.
The demands for more urgent action come after the death of north-east farm worker Iona Duncan.
The 20-year-old was killed in a two-vehicle crash on the A96 between Keith and Huntly, at the Windyraw junction, at the end of June.
Popular north-east farm worker who was killed in A96 crash had 'heart of gold'
Neil Greig, policy and research director at the motoring safety charity I Am Roadsmart, said one of the most serious issues with driving on busy but rural single carriageway roads like the A96 is the increased chance of head-on crashes.
He believes that in order to prevent further heartache and disaster along the Aberdeen to Inverness route, the A96 dualling project needs to be completed sooner rather than later.
Mr Greig said: "Investment over the years has removed most of the worst blackspots, but we are still seeing routes such as the A96 blighted by major collisions.
"Many of the crashes on the A96 seem to have a common thread running through them, in that they are head-on incidents.
"They remain the least survivable type of crash, even in a modern vehicle.
"The only long-term solution to such crashes is to dual the entire road as soon as possible and remove the issue once and for all.
"2030 is far too far away."
Mr Greig added: "This will take time and money, but the savings in delays, trauma and personal grief will be huge.
"In the meantime, enforcement and education campaigns must continue.
"The inclusion of rural roads in the driving test will also help equip drivers to deal with high-speed single carriageways."
Police name 'much loved great-granny', 76, killed in A96 crash
On April 28 this year, 76-year-old Katrina Smith from Burghead died in a two-car collision near Brodie – just days after Elgin father Shane Drury, 29, died after a crash involving a car and a van just outside of Elgin.
A96 fatal crash: Mother pays tribute to her 'beautiful, handsome son Shane'
In January, 61-year-old Alves resident Robert Bowmer, the long-time treasurer of the Moray Federation of Community Halls, died in a crash involving a car and a van close to Forres.
But the most horrific crash took place in July last year, when five people – including a little boy– died in a smash between Huntly and Keith.
Country music lovers Ted Reid, 63, from Macduff, Evalyn Collie, 69, and Audrey Appleby, 70, both from Aberchirder, died when their 4×4 was involved in a collision with a minibus full of Italian tourists.
Family of Italian tourists killed in horror north-east crash fly in
Four-year-old Lorenzo Ciociola and 63-year-old Frances Saliba Patane, who were on board the minibus, also died.
A man has been charged and has appeared in court in relation to the incident.
The case is still ongoing.
Douglas Ross, the MP for Moray, said: "These figures highlight the devastating impact that fatal crashes have had on families and communities across the north-east.
"It is truly shocking that there have been nine deaths due to accidents on the A96 alone in the past year.
"Dualling the road will hopefully make a difference, but that project is still a long way off.
"In the meantime, a combination of driver education, safety improvements and speed enforcement can all help to reduce the death toll.
"It will require the Scottish Government, local councils and Police Scotland to all work together – along with considering initiatives such as the graduated driver's licence plan that has been discussed recently."
A spokesman for the Scottish Government said: "It's important to stress that a range of causes and circumstances are responsible for these tragic accidents and some involve live proceedings and so it would therefore be unwise to comment or speculate on specific accidents until the facts are confirmed.
"More generally, the latest official statistics confirm that overall road casualties on Scotland's roads are at the lowest levels since records began.
"That decrease is to be welcomed, but there has been a slight increase in the number of people who have tragically died on our roads and our thoughts and sympathies are with all those who have lost loved ones.
"Our ambitious A9 and A96 dualling programmes will bring many benefits for road users, communities and businesses who live along or use these trunk roads.
"These ambitious and complex projects can't happen overnight as they involve significant undertakings and we have to follow due process and consult communities before proceeding.
"Careful in-depth planning and design at every stage is required to ensure we deliver the right scheme to help tackle congestion, make journey times more reliable and, crucially, improve road safety for all users."