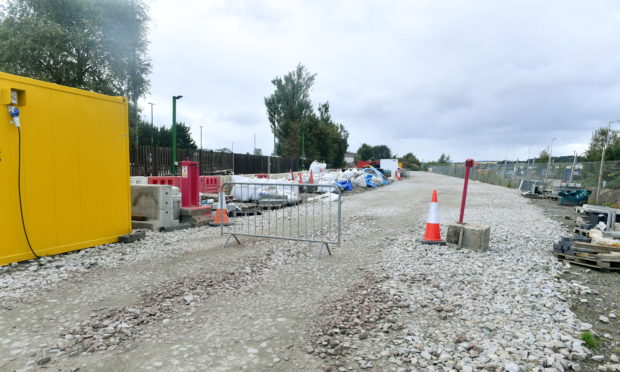 Congestion in Inverurie could be significantly reduced if plans to transform an old freight yard into a "transport interchange" are allowed to move forward, a local councillor believes.
In 2014, Network Rail revealed plans to dispose of the Inverurie freight yard near the train station and hand it over to Aberdeenshire Council to allow the local authority to create a new interchange with improved vehicular access.
But the land was then used as a depot during local work on the Aberdeen to Inverness rail improvement project.
Now that work in the area has been completed, the site has been freed-up once again – and Network Rail has for a second time agreed to make it available to the council.
In time, it is believed the yard could become home to additional parking spaces, taxi ranks and a bus terminus.
And although plans are at an early stage, Inverurie and District councillor Neil Baillie believes using the site in such a fashion could open up new opportunities and help to tackle traffic problems in the busy town.
Mr Baillie said: "I was happy to receive confirmation from Network Rail on September 2 that the strategic freight group had met and decided to take the yard off its list.
"This means Aberdeenshire officers can now talk with Network Rail about the possibility of a transport interchange for the town.
"We could potentially look at a multi-storey car park, or removing the bus turning point from the front of the town hall and moving it instead to the railway station's yard.
"So it ties in bus and rail travel all in one place – and we could maybe put a dedicated taxi rank there too.
"All of this could hopefully prevent a lot of congestion in Inverurie, especially that currently experienced on West High Street and Constitution Street.
"At this moment in time, there is no timescale as such. We  need to look at the previous plans from 2014, and see what still applies and what can be modified and kick-start the discussion for this transport interchange.
"At the moment it's very, very early stages, but the fact that we've overcome this first hurdle, with the freight yard being released, is great."
An Aberdeenshire Council spokesman said: "We have previously developed outline proposals for a potential transport interchange at Inverurie Station.
"While officers understand that the land currently allocated as a freight yard is now available to Network Rail for other purposes, we will be meeting with them in the coming weeks to discuss the next steps."
A Network Rail spokesman said: " "We're committed to helping Aberdeenshire Council progress the interchange at the earliest opportunity.
"Discussions are ongoing, but we wouldn't be able to set a timescale for the project at this point."