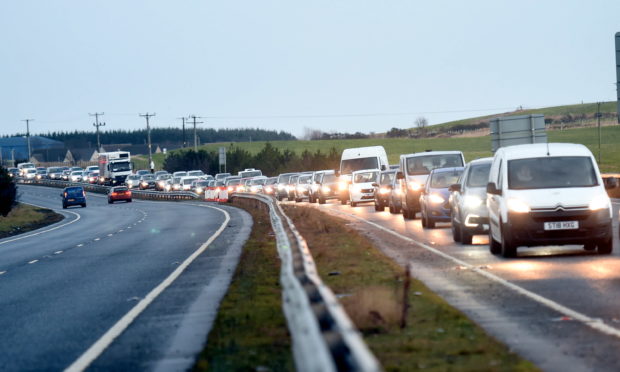 The number of people killed in accidents on north and north-east roads rose significantly last year, according to the latest statistics.
Figures released yesterday showed that 161 people died across Scotland last year, an increase on the 145 who were killed the previous year.
When broken down by local authority area, the Transport Scotland data revealed the number of fatalities increased dramatically in the Highland Council area from 15 in 2017 to 23 last year.
Moray also experienced a rise from five fatalities in 2017 to nine in 2018. The increase included a particularly tragic accident which resulted in the deaths of five people, including a four-year-old boy, three miles from Keith last year.
Aberdeenshire experienced a slight increase from seven to eight fatalities over the same period.
The findings have sparked calls for the Scottish Government to take action to improve road safety in rural areas.
Highland Tory MSP Donald Cameron said: "This upward trend in accidents across the Highlands is deeply concerning and the Scottish Government needs to urgently respond."
His Conservative colleague Liam Kerr, the North East MSP, said: "Any increase in the number of road deaths across Scotland is cause for great concern.
"The fact that so many of them occur on rural roads, like those in the north east, points to an issue which needs addressed."
In Argyll and Bute, the number of fatalities increased from four to eight while, in Aberdeen City, two people died in both 2017 and 2018.
There was one fatality in the Western Isles last year, an increase from 2017 when there was none. Shetland remained stable at one fatality in both 2017 and 2018.  No fatalities were recorded in Orkney last year, an improvement on 2017 when there was one.
Across the country, the number of people seriously injured decreased by 1% from 1,594 to 1,582. A significant drop in slight casualties means that the total number of casualties fell by 11% between 2017 and 2018 from 9,433 to 8,411, the lowest since records began.
Despite the increase in fatal accidents, Ewan Wallace, Aberdeenshire Council's head of transportation insisted there were some encouraging signs.
In 2009, the annual number of casualties for all levels of injury in Aberdeen, Aberdeenshire and Moray  stood at 1,673. Since then, the figure has fallen to 572.
Transport Secretary Michael Matheson said: "Road casualties across Scotland are at the lowest levels since records began.  While that decrease is welcome, we have however, seen an increase in the number of people who have tragically died on our roads.
"While we continue to exceed our 2020 reduction target for fatalities, I stress again this provides no comfort to the friends and family of those who have sadly lost their lives."