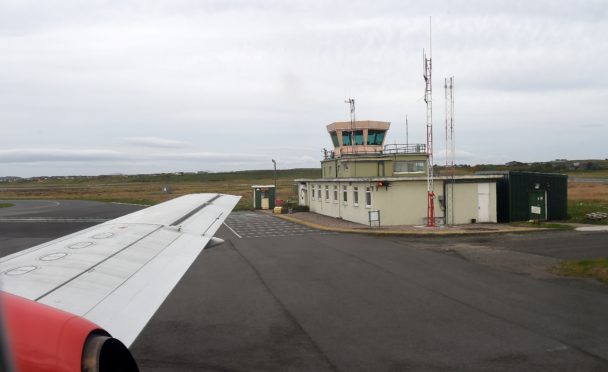 Fragile island communities could face lasting harm as a result of Highlands and Islands Airport Limited (Hial) decision to centralise air traffic control services at Inverness Airport.
Politicians have joined Western Isles Council in claiming the move will cost jobs across the north and have urged the Scottish Government to intervene.
They fear up to 60 posts and vital transport links could be threatened by plans to shut control towers, which have been roundly condemned.
There is a particular concern in the Western Isles, where not only 20 jobs at Stornoway are in the firing line but Benbecula Airport is to be downgraded, along with Wick in Caithness.
Western Isles Council leader Roddie Mackay said: "This is not an attitude or approach we would expect from a Scottish Government-owned company."
And Councillor Uisdean Robertson, chairman of transportation and infrastructure, added: "It seems to me that Hial are looking at Stornoway and Benbecula Airports as burdens rather than assets.
"They are intent on running them down with the resultant loss of employment."
He stressed that centralisation of services and jobs was entirely contrary to what island authorities had been working towards and was at odds with the Islands Act.
He added: "Our ferry services have deteriorated because of ill-thought-through decision making by mainland based management.
"It is sad that Hial is making the same mistake."
Orkney's MSP, Liam McArthur, said Hial's decision to press ahead with the plans appeared to have been "predetermined", despite "serious concerns being raised over cost, reliability and safety".
"HIAL's approach puts at risk lifeline services upon which our island and rural communities rely," he said.
North Labour MSP Rhoda Grant is also concerned and said: "The proposals to downgrade services at Wick and Benbecula are astounding given the localities have been earmarked as space ports.
"These decisions also fly in the face of the Scottish Government's own recently published Islands Plan which seeks to protect and improve services and employment in island communities."
David Avery, of the union Prospect, said: "These plans do not adequately take into account safety concerns or deliverability.
"A survey of Prospect air traffic controllers showed just 29% willing to relocate.
"There are already recruitment problems in the area and it is hard to see how HIAL will be able to recruit and retain the talent it will require to maintain services at their current level."
Hial's move involves Sumburgh, Dundee, Inverness, Kirkwall and Stornoway, as well as Benbecula and Wick.
Unmanned towers would feed information to a new combined surveillance centre at New Century House in Inverness, currently the offices of Highland News and Media.
Hial managing director Inglis Lyon described the new centre as a "significant step".
A Transport Scotland spokesperson said: "The modernisation of Air Traffic Control is essential to meet forthcoming regulatory requirements.
"Hial agreed in principle two years ago, following an in-depth study, to create a central surveillance centre as part of a wider programme designed to ensure remote and rural communities continue to benefit from sustainable air services in the future.
"We recognise that this is a major change for the organisation.
"HIAL has engaged extensively with staff, local authorities and other stakeholders throughout the process and we expect them to continue to engage and consult as it implements the programme."