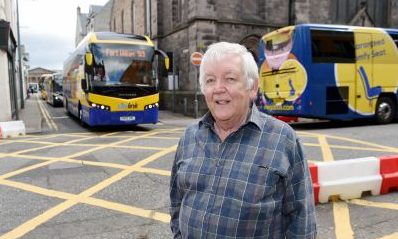 An Inverness councillor has called for buses to be banned from a city street to make the town centre safer for pedestrians.
Bill Boyd wants to see Margaret Street closed to buses for a temporary, experimental period under the Spaces for People project, and buses routed out via the Rose Street roundabout away from the city centre.
The Scottish Government's Spaces for People project has given Highland Council £2m to erect barriers to widen pavements across the region to help pedestrians and cyclists stay physically distant for the next 18 months.
Margaret Street links the bus station with Academy Street, which now has Spaces for People barriers in place.
Mr Boyd said approximately 12,000 long-distance coaches leave Inverness bus station via Academy Street each year.
He said: "That heavy traffic represents a high proportion of the vehicles passing through one of our major city centre streets and the traffic does not need to be there at all.
"By that one initiative a huge volume of heavy traffic would immediately be eliminated from Academy Street.
"It would reduce congestion and pollution , require miniscule investment and could be introduced virtually overnight."
Inverness Central councillor Emma Roddick sounded a note of caution.
She said: "It's a great idea to reduce the number of long-distance buses on Academy Street by rerouting more of them through the Rose Street roundabout. However, this move would also cut off a route for more local buses – those heading to the airport via Millburn Road, for example.
"I'd love to see more space for pedestrians in the city centre, but we have to balance that with the need to keep public transport accessible and avoid lengthening bus routes unnecessarily.
"I'm not convinced cutting off a link from the bus station to the rest of the city is the right move or the most beneficial of spaces to reclaim for people."
Ness-side councillor Ron MacWilliam said the diversion of coaches away from Academy Street could be implemented 'without much need for ceremony'.
"The buses on Academy Street add to congestion and can be a danger when overhanging onto pavements.
"Long distance coaches shouldn't be using Academy Street at all.
"There could be some good solutions around Farraline Park for future but I'd say the coaches being diverted could be implemented without much need for ceremony."
Central councillor Janet Campbell said while she welcomed plans to reduce congestion, the needs of bus operators should be considered.
"My understanding is that current traffic flows don't permit such a scheme at this time.
"Direct access to Academy Street remains very important in order to keep services running on schedule and promote more people to use buses.
"I would suggest therefore that this proposal can be given further consideration in light of potential plans that may develop for the location of the bus station".
Highland Council said the Scottish Government's £10m bus priority rapid deployment fund will support temporary bus priority infrastructure to reduce the impact of congestion on busy routes during and through the pandemic.
A council spokesman said: "This will support the bus industry by incentivising bus trips ahead of private vehicle journeys.
"In conjunction with similar active travel measures, it will provide a crucial role in protecting air quality in our city centres.
"The area which includes Academy Street is within Highland Council's air quality management area."