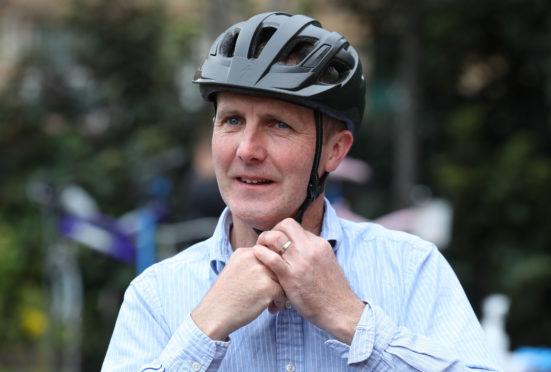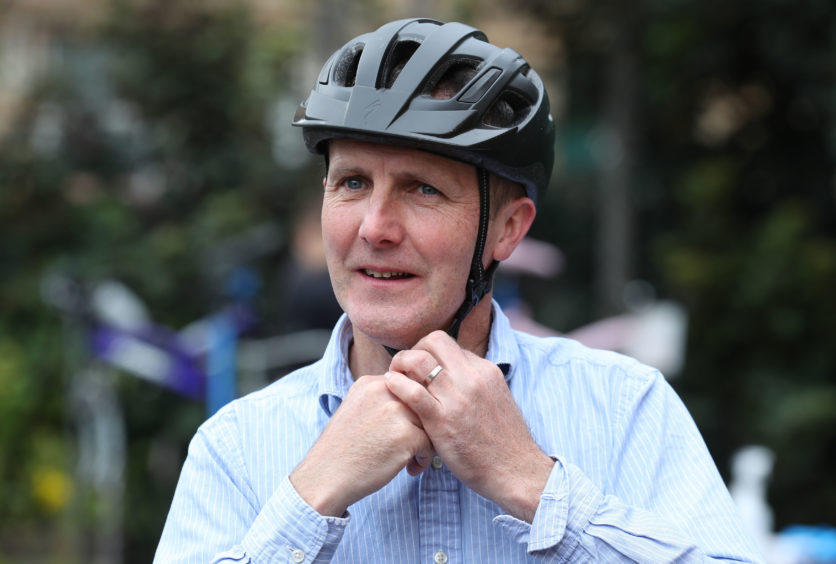 The Press and Journal has listened to the case for greater support for active travel and public transport across Scotland post-coronavirus, in light of huge spikes in cycling and drops in car use. With councils and communities alike welcoming more cycle paths, is it time to for a major rethink of how we travel? We sought answers from cabinet secretary for transport Michael Matheson.
Scotland's transport secretary says it is likely he will have to revisit his transport strategy in the near future as the nation continues to work from home and get out and about on their bikes.
Michael Matheson says the government has sat up and noticed the sheer number of people taking up cycling during lockdown – up by as much as 85% in Aberdeen – and wants to do all it can to make those habits permanent.
In an interview with the Press and Journal for our Pandemic Pedal Power series, Mr Matheson also said:
He wants to see dedicated cycling infrastructure across Scotland
He supports giving more road space to cyclists and pedestrians
Businesses will likely have to be more flexible in how employees work in future – and many are already looking at more open-ended working practices
Public transport services could be impacted if demand levels drop due to more home working.
Tens of millions of pounds have been made available to councils to create cycle and bus-friendly infrastructure as car use dwindles due to greater home working.
But with schools returning this week and office managers mulling over reopening, the Cabinet Secretary for Transport, Infrastructure and Connectivity has a balancing act to pull off in order to retain the benefits that have resulted from lockdown while also allowing people to get where they need to go.
"We want to help support people in maintaining positive changes that they've made," he said.
"It's important that we support the positive changes and I've been delighted with the way councils have responded (to the offer of funding) but it has created other significant challenges – including a significant drop in people using public transport.
"I recognise the critical importance of active travel. I cycle on a regular basis. I know the benefits of dedicated infrastructure, and I want to see that right across the country.
"We need to work with councils, authorities and Sustrans to make that happen.
"Active travel is good for the environment, it reduces air pollution, it's good for people's physical health and mental wellbeing.
"We're looking to see if there's more we can do to support that and people making use of public transport, to stop them falling back into the default position of getting in their car."
At the start of the coronavirus pandemic, as it became obvious that measures were needed to enable safe social distancing in town centres, Transport Scotland made £10 million available to local councils through the Sustrans-administered Spaces for People fund.
The fund – since tripled to £30 million – has been used to create widened pavements, temporary cycle paths and pedestrianised areas in cities and towns across the country.
It has been used to make some dramatic, even contentious changes to some of Scotland's streets. In Glasgow, entire lanes of main roads have been given to cyclists. Dundee has closed city centre streets to traffic, as has Edinburgh and Aberdeen. Rural councils are using Sustrans cash to create walkable and cyclable spaces in town and village centres.
The public has demonstrated an appetite for change, with Edinburgh's and Aberdeen's Spaces for People suggestion pages each inundated with hundreds of ideas for walking and cycling improvements.
Some councils – including Aberdeen City Council – have already pledged to roll back on the temporary active travel infrastructure they have installed once the pandemic comes to a close.
But Mr Matheson says the country's active travel infrastructure, and support for public transport, needs to be prioritised as a matter of course – and that could mean taking space away from cars.
'There is another way' – Aberdeen co-leader says transport priorities likely to change in future
Mr Matheson continued: "If you look at the Spaces for People fund that we launched in April you can see from local authorities in north-east Scotland, in Aberdeen City and Aberdeenshire, a lot of the temporary active travel measures have involved taking part of the road space and making it a cycle lane. That's exactly what the fund is there to support.
"We want to see more road space dedicated for cycling and walking. The way councils are taking this forward is what we're supporting them and encouraging them to do.
"It's important that they engage with local communities as they do this. Local businesses and shops may be concerned but given that these are temporary there's an opportunity for communities to see how they will impact where they live before the council take anything further.
"That shift in making more road space available for cycling is critical during the lockdown. What I often see or hear is 'I don't want to use the bus because it's not reliable, or takes too long' – and that's because of congestion.
"That's why I'm dedicated to providing funding to local authorities to look at how they work with bus operators to put in temporary infrastructure to tackle congestion."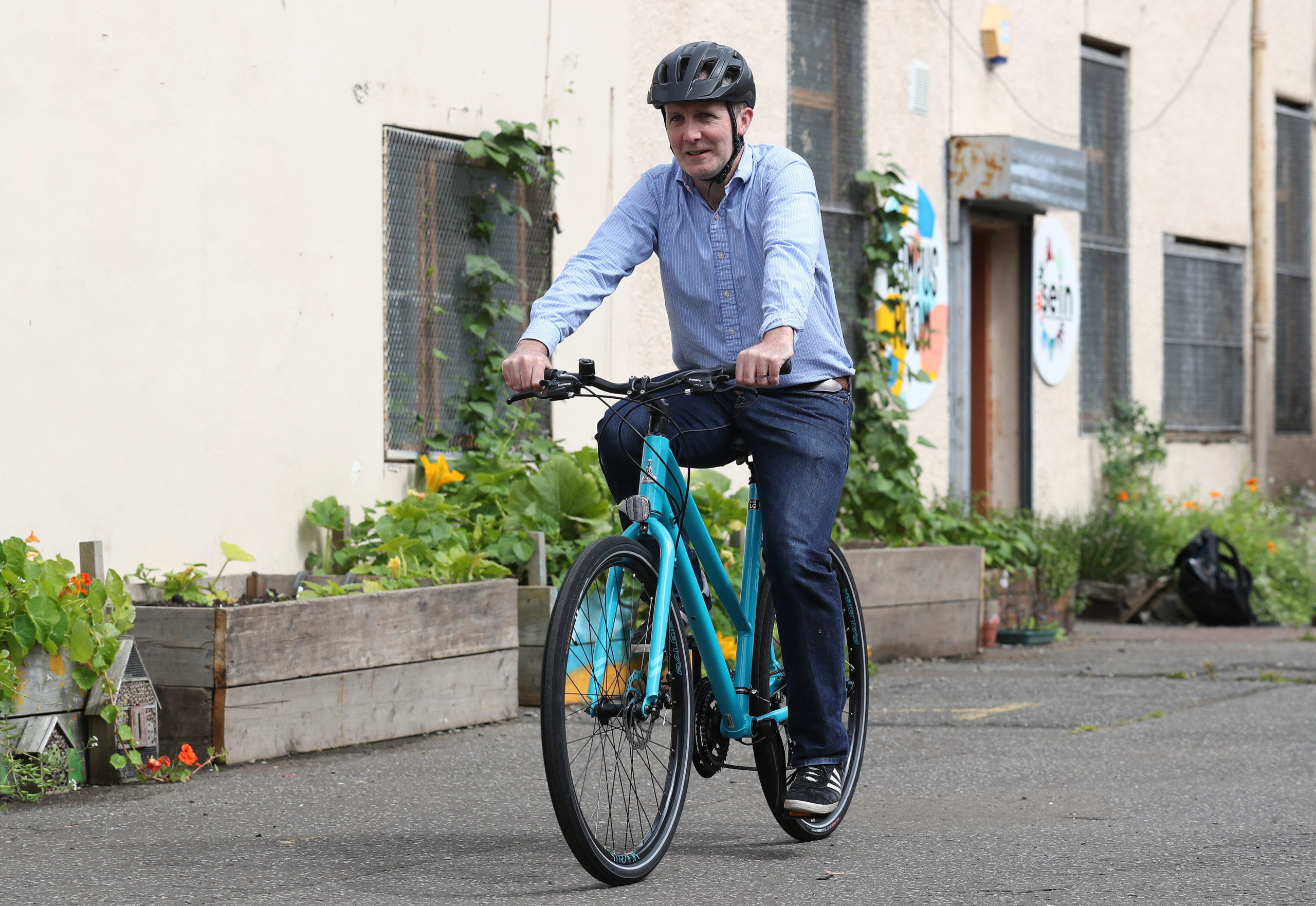 The £30 million is a sizeable chunk of cash – almost a third of the annual active travel budget for Scotland – but remains a shadow of the amount spent on motorways.
However, the amount being spent on trunk roads is falling – and the cabinet secretary says priorities are being realigned.
"If you look at the investment we put into active travel it has more than doubled to over £100 million – and that has increased by £15 million this year. We've been putting it up considerably over the course of the last four years.
"I often get challenged on why we don't invest more of our capital funding in active travel. As a percentage compared to motorways and trunk roads it's going up."
Alongside the Spaces For People fund, Mr Matheson has also made £10 million available to councils to allocate temporary space to buses, and £46.7 million to support bus firms back into running regular services. Combine that with a £500 million fund launched last year for bus-priority infrastructure and it's hard to disagree that Mr Matheson is taking public transport more seriously – so long as his pledges are realised on everyday journeys from commutes to school runs.
He continued: "We still have a significant amount of work to take forward to encourage people to look at, for example, their school journeys. There's still a significant amount of work taking forward at a local level for councils to put measure in around schools that help to discourage people from taking their cars to schools, things like parking restrictions.
"But it's about looking at many routes to schools – could (councils) build part of Places For Everyone projects, or build walking routes rather than car routes?
"We need local authorities to look at how they demonstrate to kids and parents the safe routes for cycling to school. It's important when local authorities are taking investment forward they think about that and the wider community."
As for commuting, Mr Matheson acknowledges this could become a thing of the past for some of those who have adjusted well to working from their living rooms and dining tables – despite rising levels of car use compared to during full lockdown.
I recognise the critical importance of active travel. I cycle on a regular basis. I know the benefits of dedicated infrastructure, and I want to see that right across the country.

Transport Secretary Michael Matheson
Last month, the cabinet secretary visited Scottish Power's new headquarters at Glasgow's Charing Cross, where chief executive Keith Anderson detailed how just 10% of workers will be on the premises at any one time, with staff expected to work only one in every four weeks on site.
If these patterns are repeated across Scotland's office complexes, motorways and main roads will be noticeably quieter – freeing up space for people to get about on foot, or under their own pedal power.
As far as Mr Matheson is concerned, Covid-19 will be around for "months to come", with discussions between employers and staff needed to ensure workers' welfare is protected. And if the roads are quieter and cleaner as a result, it's a secondary, albeit welcome side-effect.
One thing he would not be pressed on was the future of public transport, and how that could be impacted by a drop in commuters. It's too early, he believes, to make a call on how that could pan out just yet.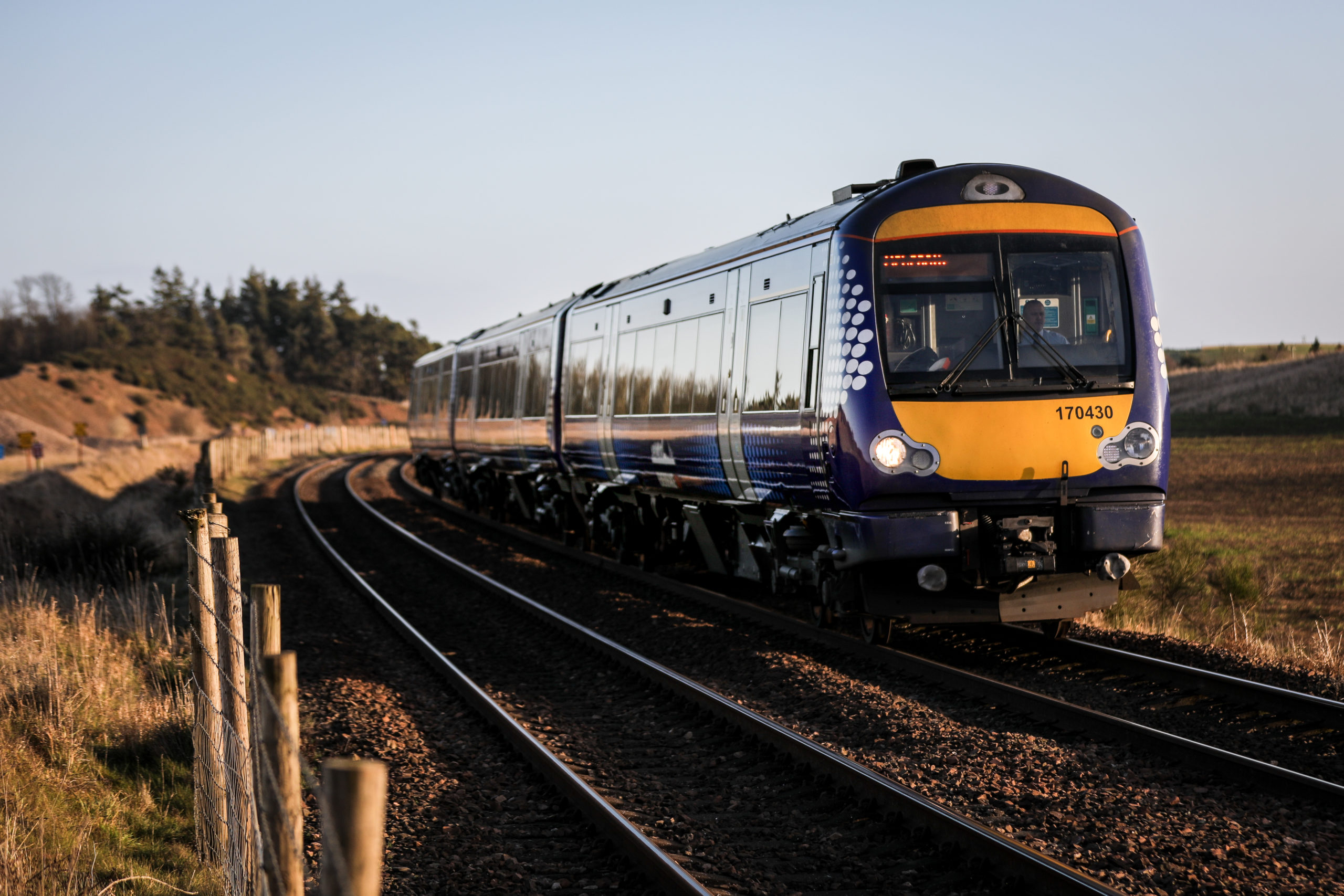 Mr Matheson concluded: "From some of the discussions we've had there's clear evidence that some of them are looking at a change in their business model because they recognise that more staff can work from home.
"There's already a bit of a transformation in some parts of our transport system. We've noticed that, before the pandemic, but this whole process has been expedited very rapidly (by Covid-19).
"That will have an impact on our transport system. Rail services and bus services will see changes in people's travel patterns and will act as a reflection of the changes that have come about during the pandemic. We will need to adapt our approach to transport to take account of that.
"Some of the changes we've witnessed over the last couple of months, along with what we were starting to do already with active travel and public transport, show how we can embrace that going forward. But it will mean changes in how we support public transport in the future to reflect that change in behaviour.
"There's no doubt we will have to look at how to approach transport in the future, and how that might change in the months and years ahead.
"But I'm keen to make sure that we do what we can to support people in keeping up any positive changes that they made during the lockdown."
---
Share your views on cycling where you live
The Press and Journal is looking for cyclists from across the north and north-east Scotland to complete our Pandemic Pedal Power survey, sharing views on how your cycling habits have changed – or even formed – during lockdown.
The survey is open to both experienced and novice cyclists, and completed surveys will be entered into a draw to win a £50 Halfords voucher.

If you have anything further you'd like to contribute to our story, email jbrady@dctmedia.co.uk with pictures, videos and anything else you'd be happy to share.