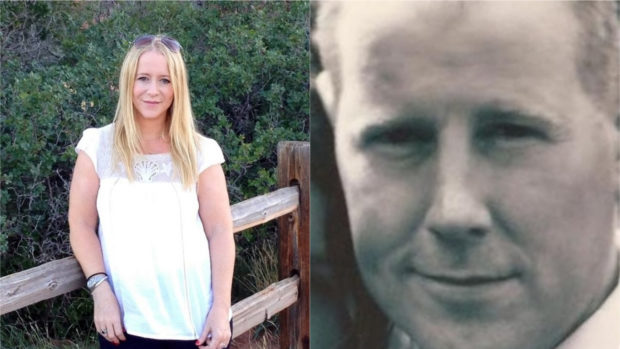 The sister of the driver of the Scotrail train which crashed last week has called for someone to be made accountable for the tragedy.
Salina McCullough blamed ScotRail bosses for the death of her brother Brett, 45, insisting his passenger train should never have been travelling through a severe summer storm.
It has been revealed that the 06.38 from Aberdeen to Glasgow was catapulted over the tracks after striking a landslide just south of Stonehaven last Wednesday morning.
Father-of three Mr McCullough, train conductor Donald Dinnie, 58, and passenger Christopher Stuchbury, 62, all died in the crash.
And now, Ms McCullough has laid the blame for their deaths squarely at ScotRail's door.
She said: "They killed him – not the landslide, I know it in my heart.
"Someone needs to be in jail for this, I won't stop fighting for that, as long as I have breath in my body.
"During one of the worst storms to hit Scotland, they sent my brother out to drive a beast of a train, for only six passengers. I wish Brett had refused, but that wasn't in his nature. He would never let anyone down."
And in a stark warning to ScotRail, Ms McCullough told the Mail on Sunday: 'I am holding you responsible for my brother's death.'
Initial findings released on Friday by the Rail Accident Investigation Branch (RAIB) show that after passing through Stonehaven, the train was stopped at Carmont, when the signaller sent a radio warning about a landslip further south.
Mr McCullough was then told to turn back towards Aberdeen but had only travelled approximately 1.4 miles (2.25 kilometres) when the train – made up of two engines and four carriages – struck a landslip covering the northbound line and derailed.
The Met Office confirmed that between 5am and 7am, two and a half inches of rain had been recorded at its local Dunnottar measuring station.
The lead engine and a passenger carriage plummeted down a wooded embankment before coming to a halt and bursting into flames.
The Rail Accident Investigation Branch (RAIB) has begun an investigation into the sequence of events and the actions of those involved; the operating procedures applied; and the management of earthworks and drainage in the area, including recent inspections and risk assessments.
A separate investigation has been instructed by the Lord Advocate, which will be carried out by British Transport Police, Police Scotland and by the industry's regulator, the Office of Rail and Road.
A ScotRail spokesman said:"Everyone at Scotland's Railway is heartbroken following the terrible accident on Wednesday.
"Our thoughts are with those who have been affected by this tragic event, particularly the families of Brett, Donald, and Christopher.
"We send our love and support as they mourn the loss of their loved ones, something no family should ever have to bear.
"Multiple independent investigations are under way to establish exactly what happened on Wednesday. It would be inappropriate for us to comment further until those investigations are concluded."
The tragic chain of events leading to the derailment was laid bare in a government report on Friday.
Experts confirmed that, after hitting a landslip, the passenger train left the tracks and careered for 100 yards before crashing into a bridge.
The RAIB report stated: "As the track curved to the right, the train continued in a roughly straight line for around 100 yards until it struck a section of bridge parapet."