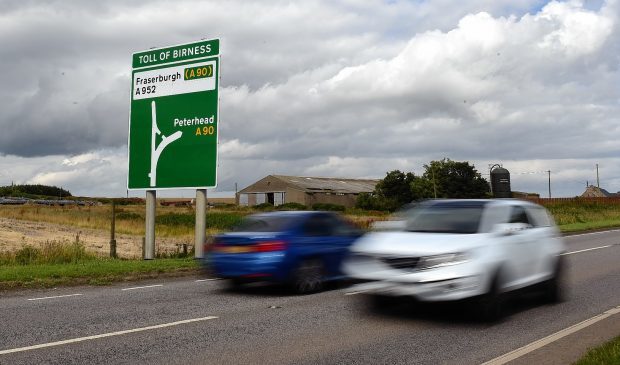 A senior north-east roads official has said proposals to extend a dual carriageway past an accident black-spot are in a "good position".
Nestrans transport strategy manager Paul Finch believes there is a "robust" case for the extension of the A90 Balmedie to Ellon road to the Toll Of Birness.
The proposals are among seven key projects which could benefit from funding from the £250 million Aberdeen City Region Deal.
Plans to continue the dual carriageway north of Ellon were recently included in the transport partnership's proposed 2040 strategy.
Yesterday Mr Finch updated members of the city region deal committee on the plans for the seven projects, which also include walking and cycling links around the centre of Aberdeen, new railway stations, and link roads to the Aberdeen South Harbour.
A draft timeline for the projects could be published within weeks.
The transport official was quizzed on how quickly these projects could be delivered – with Aberdeenshire Council leader Jim Gifford raising concern over the strength of the preparatory work for Toll Of Birness.
Mr Gifford raised concerns the plans would be drawn upon three-year-old roads appraisals and fears a "perpetual cycle" of work never reaching conclusion.
He asked: "If this takes many years to go through, do we have to redo all those appraisals, re-spend the money we have already spent and start again from scratch?"
Mr Finch reassured members the documents were "sound and valid" to make the argument for the road to be expanded.
The A90 Ellon to Peterhead is a trunk road and therefore it is the responsibility of government quango Transport Scotland to take on the design of its new layout.
The Nestrans official said: "Clearly the work the local authorities have done is the prompt for Transport Scotland to start their processes in terms of the trunk road design process.
"I would say that we are in a good position to keep making the case, although it is not the job of the local authority, nor is it advantageous for the local authority, to start doing the work of the trunk road authority.
"We will continue to do make the case using modelling evidence, the outcome of various Nestrans surveys and ongoing monitoring of safety and traffic.
"We are also working with the likes of Fraserburgh and Peterhead port authorities and the fishing industry to keep on making the case."
Beyond Toll Of Birness, heading north to Fraserburgh and Peterhead, Nestrans is proposing to introduce so-called "2+1" lanes for safer overtaking.
A roundabout could also be installed at the Toll Of Briness junction as well as at Cortes, another turn prone to accidents.
A consultation and a virtual exhibition of Nestrans' plans for the next 20 years can be accessed at nestrans2040.org.uk
The deadline for submissions is Friday, October 16.