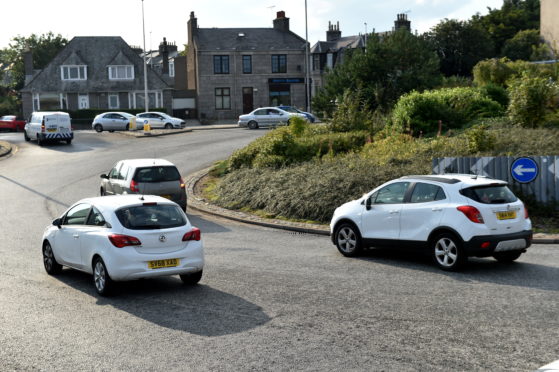 Aberdeen Council has set the wheels in motion towards a greener city, unveiling plans for a permanent roads overhaul to encourage cycling and walking, an incoming low emissions zone and scores of charging points for electric vehicles.
Proposals including the removal of the busy St Machar roundabout near Aberdeen University's main Kings campus and a new footbridge spanning the River Dee at Torry are among an array of measures in the local authority's draft active travel action plan.
Access to and from more than 25 areas of the city could be changed in the shake-up in an effort to have more people walking, cycling and wheeling.
There are proposals to improve cycling access to Market Street and College Street.
And the document, outlining work to be carried out between next year and 2026, also highlights the potential for more permanent measures in many spots touched by the controversial Spaces For People work.
Those include the route from Bridge Of Don to the city centre via the beach, which has undergone a major transformation in recent weeks as part of the £1.76 million temporary physical distancing works.
Bike lanes already stretch from the Donmouth to Footdee, as well as up the Beach Boulevard.
Queens Road – which will likely form part of a cycle lane from Hazlehead to Rosemount as part of the emergency work – is also listed.
The temporary road changes in the city have prompted fury from some quarters, despite backing from public health bosses fighting the spread of the virus.
Council transport spokeswoman Sandra Macdonald promised the new proposals would differ in that the work would not be carried out all at once.
She said: "There will be thorough and wide-ranging consultation on the proposals and there is no easy transfer of what we have on the ground at the moment, with lines and bollards, into some sort of permanent scheme.
"But there will be elements of Spaces For People – the schemes weren't plucked out of the air from nowhere – that will gain support. There have been already.
"And there will be other parts that don't work for people – but all of this will come out in the fullness of time."
It is thought removing the St Machar Roundabout – considered an unpleasant experience by those on two wheels – will improve safety for cyclists making their way to and from the city centre.
The show of intent from the council in naming some of the city's busiest and most polluted roads was "very pleasing" to Aberdeen Cycle Forum chairwoman, Rachel Martin, who told The P&J: "It's not clear what is planned but we would support active travel infrastructure on all of these roads.
"We haven't seen anything yet, as this new segregated path at the beach is really the first cycling infrastructure the council has put in.
"We're about 40 years behind investment in cycling infrastructure in Aberdeen so there's a lot of catching up to do."
The council launched a consultation on the proposed plan on its website, along with two others also tied to its low carbon aims – the coronavirus-delayed low emission zone (LEZ) in the city centre and a vast roll-out of electric vehicle charging points.
Residents are being asked to give input on which areas of Aberdeen the pollution-reducing zone should cover and which vehicles could access it.
Initially expected to be in place in Aberdeen by the end of the year, the introduction of the LEZ has been pushed back until 2022.
Petrol cars registered before 2004, diesels from before 2015 and buses and goods vehicles on the road before 2014 might be affected.
The local authority has brought forward eight different options for its footprint, including various streets such as Union Street, George Street and the wider city centre.
Plans have also been unveiled to have 50 electric vehicle charging points across the city by 2025 – though that number could more than double by the end of the decade.
As many as 112 would be installed at fuel stations, car parks, park and rides and even at the Pittodrie football ground by 2030.
Mrs Macdonald added: "It makes sense to consult on the active travel plan, LEZ and future use of cars together because they are all part of a bigger jigsaw.
"It's been encouraging to see more people walking and cycling these last few months and there's little doubt it's helped people's health and well-being through this torrid time.
"But we do have to start looking at infrastructure projects of the future."
Last night, the transport spokeswoman and opposition councillors all urged the public to take the time to make their views known.
Aberdeen Liberal Democrat group leader Ian Yuill said: "You only have to read and listen to the comments about the temporary Spaces for People changes in the city centre, at the beach and elsewhere to realise just how strongly people in Aberdeen feel about changes to our local roads.
"Walking, cycling and wheeling are good for people's health – and that is even more important now than ever before.
"The Liberal Democrats support improving walking, cycling and wheeling facilities across Aberdeen but it is important though that those are introduced with the support of local communities – and not imposed on them."
SNP group leader Alex Nicoll added: "It's important the the public feed into this consultation and make their views known – the ruling administration won't hesitate in pushing forward their vision for our city, which could see a number of these temporary Covid-19 measures become permanent."
All three consultations can be viewed at consultation.aberdeencity.gov.uk.