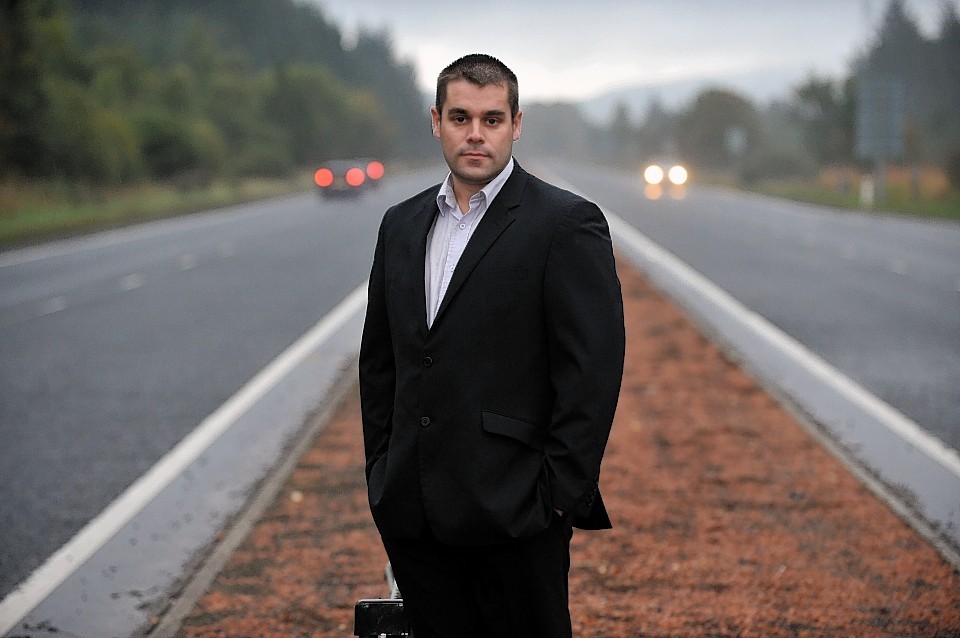 A campaigner opposed to average speed cameras on the A9 has called for a public inquiry into the controversial £2.5million scheme.
Mike Burns claimed the devices, which are currently being installed on the Perth to Inverness stretch of the route, were already slowing traffic down to speeds as low as 32mph.
He said drivers were reporting queues of between 40-50 vehicles and significant increases in dangerous overtaking manoeuvres due to frustration.
Mr Burns, who leads the A9 Average Speed Cameras Are not the Answer campaign group, said more and more people were signing up in protest to the Scottish Government scheme.
He claimed support has been growing hourly since Highland Liberal Democrat MP Danny Alexander launched the Highland Infrastructure Forum last month.
Transport Scotland road safety manager Stuart Wilson has admitted the police do not investigate the cause of every accident on the A9 to establish if speeding was a contributory factor.
He said officers only carry out probes in the event of fatal or "extremely serious accidents".
Mr Burns, of Foyers, said: "Drivers are now reporting a rise in observed risky overtaking manoeuvres and an average speed which is so low as to render the A9 a no go zone for many.
"It will cause a significant impact on the Highland economy.
"Transport Scotland and the closed door A9 Safety Group must be subject to a public inquiry on this fiasco and for adopting a scheme which could be construed as negligent by creating conditions which are creating worse driver behaviour."
Mr Alexander, who is Chief Secretary to the Treasury, wants a moratorium on the whole project and the funding used to upgrade the A9 between Inverness and Perth to dual carriageway.
"Everyday people contact me concerned that the SNP are ploughing ahead with their plans without listening to Highland motorists who drive the road daily," he added.
"Long queues, frustration and dangerous overtaking has always been a real difficulty for drivers on the A9 and average speed cameras are liable to make matters worse.
"It is vital that the Scottish Government look at ways to limit, not amplify, the affects of traffic bunching up, such as speeding up the dualling project."
But Transport Scotland officials are adamant that average speed cameras were effective in saving lives.
A spokesman said: "Claims that speed is not an issue on the A9 have no foundation in fact.
"Of the offences recorded by Police Scotland and the Safety Camera partnerships last year, over 95% were speed related.
"The comments in terms of the role speed plays in accidents have been misrepresented.
"It is unfortunate that the campaign group has rejected the recent meeting offered to them by the chair of the A9 Safety Group.
"This would have allowed us to address the lack of understanding of the work that is being carried out and explain the role that the cameras have in supporting safety on the A9."