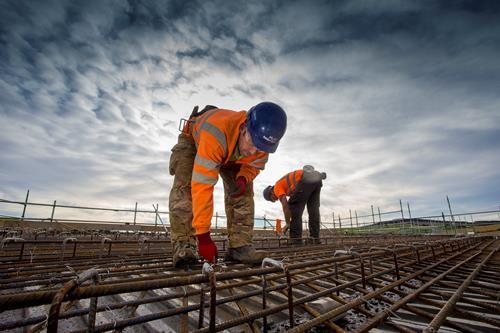 A congestion-busting £10million project to improve a most notorious traffic bottleneck is on track to open next spring.
A significant milestone has been reached on the building of the new Inveramsay Bridge, just north of Inverurie, with the installation of 14 concrete beams for the structure.
Construction work on the new crossing – which will offer an alternative path from both sides of the A96 Aberdeen to Inverness road across the railway – has come on significantly recently.
About a mile of new road will be built around the bottleneck, linking to the current A96 both north and south of the current Inveramsay Bridge.
As part of the latest phase of the project, contractors Balfour Beatty brought 14 30-tonnes precast concrete beams – 65ft in length – safely into position.
Transport Minister Derek MacKay said: "The installation of the bridge beams marks a significant milestone for the Inveramsay Bridge improvement project, which will help to remove congestion and improve journey times for road users travelling along the A96.
"The work being carried out on the Inveramsay Bridge will cut congestion, improve journey time reliability and traffic flows, while reducing the likelihood of bridge strikes, which can cause disruption to both road and rail users."
Councillor Richard Cowling said he hopes the bridge will make the road itself a safer place for drivers.
He added: "It is certainly progressing quite a bit now. I think it will speed the traffic up.
"It is nice to see it is happening and I am delighted it is going ahead.
"It will remove those that will think the road just north of the Chapel of Garioch is a raceway. I am surprised there has not been more accidents on that road. Hopefully the new Inveramsay Bridge will take those people out of the equation."
The new bridge is scheduled to open by spring 2016.