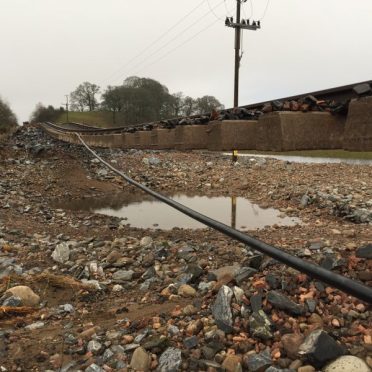 A furious business leader has branded the Highland Mainline "not fit for purpose" after flooding left services high and dry until next week.
Trains linking Inverness to Perth and onward to Glasgow and Edinburgh will be cancelled for another week after more than 400 tonnes of ballast was washed away from under the track south of Dunkeld.
The tracks have been left suspended in mid-air on two separate stretches of the line, with Network Rail saying it will be a "big job" to repair the damage because of access difficulties.
The track is not expected to reopen until Monday, January 11, with a replacement bus service running until then.
Inverness Chamber of Commerce chief executive, Stewart Nicol, said there would be an "inevitable impact" on business.
He said: "It's very concerning and it's a concern we've had on an ongoing basis.
"We have very few direct transport links to Inverness, this is the only rail connection we have to the central belt and this has happened before.
"It illustrates that the asset we are relying on is just not fit for purpose. I appreciate the weather has been extreme but this is not the first time that this has happened.
"There will be an inevitable impact on business and visitors to the Highlands.
"It's a very significant period of time for the line to be closed, it's the first full week back after the holiday period so there will be a considerable impact."
The track has been closed since Storm Frank battered Scotland last week – with attempts to repair the damaged stretch of line at Dalguise, three miles south of Dunkeld, hampered by flood water in the surrounding fields.
Highland MSP and Labour's shadow transport spokesman David Stewart said: "This will clearly mean there will be a major inconvenience for the north's rail passengers and for business.
"While the weather has clearly been extreme, there is an ongoing problem with this crucial line.
"What we need is a long-term plan to improve resilience on the Highland Mainline.
"I am due to be meeting the operator and also Network Rail soon and I will be raising this issue with them."
Network Rail said one of the "wash away" areas in Perthshire was 80ft long, while the other was about 60ft.
A spokeswoman said: "A wash away is when the track bed and ballast is washed away by flooding, in this case leaving the track suspended in the air.
"We have a problem accessing the site with heavy machinery as the adjacent fields are still under a metre (more than 3ft) of water, therefore allowing no access through them.
"It is a really big job as we will need to replace about 400 tonnes of ballast which we now aim to bring to site by rail once we have stabilised the track sufficiently."
A ScotRail Alliance spokeswoman added: "A shuttle train service is operating between Inverness and Aviemore at advertised train times and replacement buses are running between Perth and Inverness in both directions as per train services.
"Customers also have the option to travel on train services between Perth and Aberdeen to join train services between Aberdeen and Inverness."
Travelling via Aberdeen will take about two hours longer than a normal journey between Inverness and Perth.