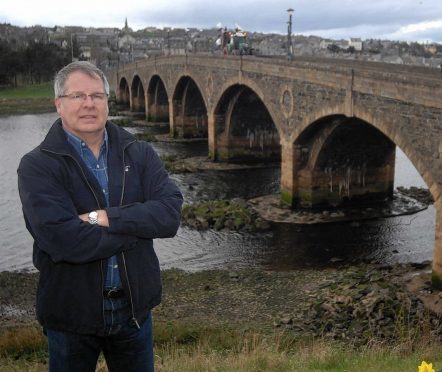 Aberdeenshire Council is launching a major public consultation into the future of a north-east bridge which is used by thousands of vehicles every day.
Drivers and pedestrians who use the Banff Bridge on the A98 have been invited to take part in a survey to establish how important the crossing is for journeys between Peterhead, Fraserburgh and Inverness, and if officials should consider upgrading or replacing it.
The 400ft span, which was built in 1779, is a vital arterial route across the River Deveron between the neighbouring towns of Macduff and Banff.
It is estimated that vehicles cross the bridge more than 12,000 times every day, with up to 180 pedestrians also using it on a daily basis.
A minor consultation on the seven-arch crossing was carried out in 2008 to "gauge the extent of problems and issues" facing users.
Now the council has appointed consultancy firm AECOM to carry out a fresh study following a decision by the infrastructure committee.
The new study will investigate whether those issues have changed or worsened, as well as considering safety concerns for pedestrians and cyclists.
Last night, local area committee chairman John Cox, a Banff resident himself, said the results of the study would "support the identification of potential improvement options" for the bridge.
"I would encourage as many users of the bridge as possible, not just residents of Banff and Macduff, to feed their opinions and experiences into this survey," he said.
"It has been designed to understand the typical journeys people make using the bridge and their general experience of travelling on it, either as the driver of a vehicle, as a pedestrian or cyclist."
The area committee's vice-chairman, councillor Brian Topping, said: "It is important to gauge the economic and social impact of this crossing on the local area so that the council can be well informed when considering any options for its future."
An online survey has been set up and will run for six weeks. Drop in sessions are also planned.
To access the survey, visit www.banffbridgesurvey.net