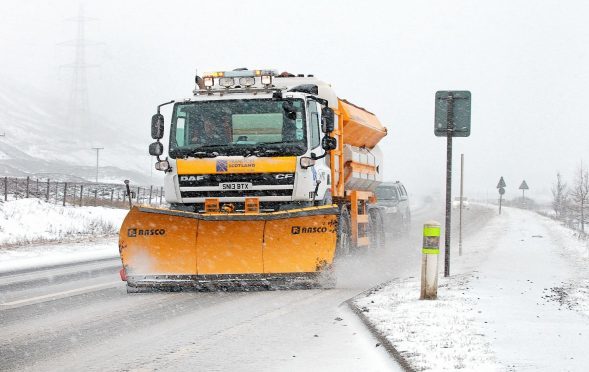 More councillors have backed a call for communities to help grit Aberdeenshire's paths and backroads as a £1million local authority cutback takes hold.
Members of the Marr area committee were yesterday briefed on the amendments to Aberdeenshire Council's winter service policy as part of the winter service review.
The council approved a reduced maintenance budget of £4.268million for 2015-16 last year.
The committee joined Garioch colleagues yesterday in raising concerns that gritters will not take to the region's priority footways until after 8am under the changes.
The council's 32-road primary road network will not be affected by the review, however the non-primary roads will not be treated unless there are sub-zero road surface temperatures, or if air temperatures below 3C are due to persist for 48 hours.
Banchory and Mid Deeside councillor, Karen Clark, said further grit bins would encourage the public to "do more" and help clear smaller pathways and roads.
She said: "I do think 8am is maybe a bit late in the day in terms of the footways. The other aspect I'd like to bring up is grit bins.
"Obviously we can't be out there all the time but if we provide the resource and make it clear, individuals can grit their pavements and footways."
Fellow local member Jill Webster said: "I do question the notion of starting to grit our footways at 8am. People have to get to their work or to school and 8am is a bit late for that.
"I think we should look at an earlier start, certainly where priority footpaths are concerned."
The council's head of roads, Philip McKay, said the council's "normal position" was to grit its priority footways during the day.
He added: "Somehow we have drifted into a position where we all deploy at 5.30am which has never been in the policy.
"If we deploy in footways at 8am we are expecting these conditions for the next 48 hours.
"I think 8am is a reasonably clear time to go and do that. To change our policy dramatically and go to a 5.30am or 6am start everywhere, I'd have to put something like another 50 drivers on permanent standby.
"It also seems slightly counter-intuitive. I would be starting the A944 at 5.30am in the morning and footways in Bellabeg at the same time.
"We can't remove the risk, but we can reduce it."