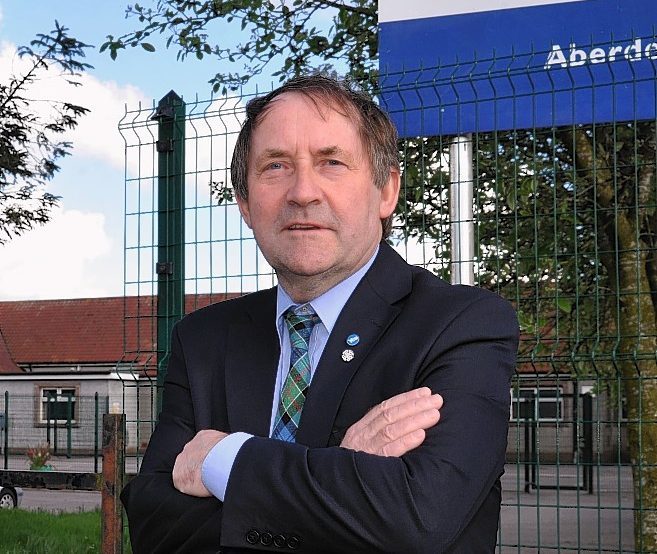 A north-east councillor has lodged a formal complaint against bus company, Stagecoach, after concerns were raised that a new £5.5million fleet of vehicles breach disability regulations.
A multi-million-pound move by Stagecoach to upgrade its Buchan Xpress fleet has proved controversial with many older and disabled passengers.
More than 300 people turned out to question managing director, Steve Walker, at a bus forum meeting last month, and Central Buchan councillor, Jim Ingram, has now filed a complaint to the traffic commissioner, based in Edinburgh.
Mr Ingram said he had been "inundated" with complaints from constituents who have had difficulty boarding the new coaches.
In his letter to the commissioner, Mr Ingram wrote: "Numerous people claim that they are unable to access the buses, combined with reports that many disabled users have been left standing at bus stops.
"[This is] due to (only) two low-level disabled seats being occupied, and they are unable to climb the stairs to the general seating area."
The SNP councillor believes the new vehicles breach disability discrimination legislation, given the low number of accessible seats and height of internal stairs.
An emergency bus forum meeting, which was held in February, was attended by an unprecedented number of passengers who quizzed Mr Walker for several hours about the fleet's future.
The Stagecoach North Scotland boss denied the new fleet was in breach of disability legislation.
But, last night, a spokeswoman said the firm was now looking into "potential modifications" to the coaches. These would include additional hand rails and stopping bells as well as plans to carry out a customer satisfaction survey in the coming weeks.
However, she added that overall feedback about the 17 new Buchan Xpress buses has been "positive" and early indications were that the new vehicles were proving "popular with most passengers".
The spokeswoman added: "In particular, we have seen a rise in the number of concessionary passengers using the route since they were introduced.
"There are alternative options available for passengers travelling between Aberdeen and Ellon who do not wish to use the new vehicles."