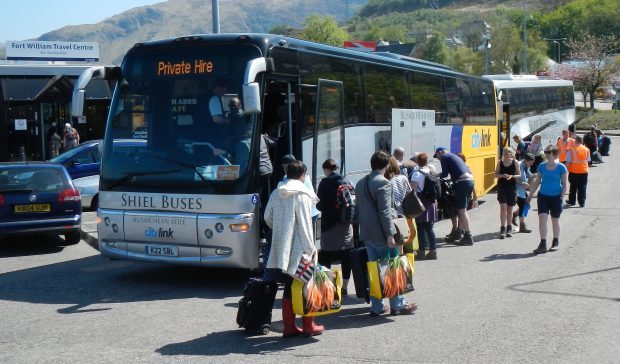 A canal swing bridge became stuck open yesterday morning disrupting train services on the West Highland Line.
The problem at Banavie in Lochaber meant rail passengers travelling between Fort William and Mallaig had to be put on buses.
ScotRail said Network Rail confirmed the swing bridge over the Caledonian Canal was not closing to allow trains from around 11am.
The first service affected was the 10:10 Mallaig to Glasgow Queen Street, from which 90 customers had to be transferred by bus.
This service terminated at Corpach and two buses picked up customers.
And the 10:21 Crianlarich – Mallaig terminated at Fort William.
A ScotRail spokeswoman said: "We arranged onward transport for customers who were able to complete their journey by bus."
The Jacobite steam train, which started running for the season on Monday, was not affected by the bridge problem.
A spokesman for operating company West Coast Railways said: "Fortunately the problem occurred after the Jacobite had gone across the swing bridge in the morning and the line was open again in time for its return.
He said the company was very pleased that its service had not been disrupted in this way on this occasion.
A spokesman for Network Rail said the issue at Banavie swing bridge was caused by a loose bracket dislodging one of the limiting switches that controlled the movement of the structure.
He said: "Engineers on site manually re-positioned the bridge before diagnosing the fault and re-positioning the switch.
"The line opened for normal service at 1.35pm.
"We apologise for any inconvenience and thank passengers for their patience."
The rail bridge, which is an asymmetric bow truss, is operated by hand, with a mechanism on the south side of the bridge.
It is next to the Banavie Swing Bridge, which carries the A830 Fort William to Mallaig road across the canal.