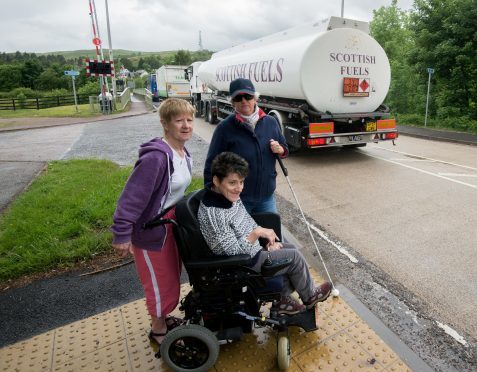 A Highland community is calling for three new pedestrian crossings on a busy trunk road because people are having difficulty getting across the road at these locations.
One local disabled woman has been left in tears at the ordeal of trying to cross the thoroughfare.
The problems on the A830 Fort William to Mallaig road have been reported to Kilmallie Community Council in responses to its survey on road safety through Banavie and Corpach.
Many respondents have reported near misses and other have said they are now too scared to cross the carriageway by Banavie swing bridge, Banavie Primary School and the Co-op store in Corpach.
Community council treasurer Jan MacLugash, who lives in Banavie, said her daughter, Tina, 43, who suffers from cerebral palsy and uses an electric wheelchair, had been very upset while attempting to cross by the swing bridge.
She said: "She has been reduced to tears when we have been trying to assist her to cross at that point because she is so frightened by the vehicles going by.
"We need these crossings for the children, who don't have the judgement, and for vulnerable people."
Mrs MacLugash pointed out that the swing bridge crossing is also well used by tourists, who come to see Neptune's Staircase on the Caledonian Canal, the Jacobite steam train and those walking the Great Glen Way.
Annette Hobson, 49, of Banavie, who suffers from blindness and deafness as a result of Usher Syndrome, is also keen to see the crossings installed.
She said: "The main problems are the volume of the traffic, especially during the tourist season, and the speed of the traffic as very few motorists keep to the speed limit.
"A lot of people here are genuinely scared of crossing this road now."
And their views were borne out by many of the more than 80 people who have so far completed the survey.
One respondent said: "My husband had a near miss at the canal bridge while crossing with his mobility scooter, due to poor sight lines, you can't see traffic and traffic can't see you."
Another wrote: "I see on a weekly basis pedestrians having difficulties on crossing at all the above locations. The canal bridge is the most hazardous because of the speed of vehicles."
A further comment said there has been "multiple near misses at all three locations" over the past 10 years.
A Transport Scotland spokeswoman said: "We are currently seeking to deliver improvements on the A830 at Banavie Primary School junction this year and are in contact with the school Parent Council to ensure the design we progress addresses the issues they have raised. We have also been in discussion with Kilmallie Community Council previously and would be happy to meet with them to discuss their concerns further."