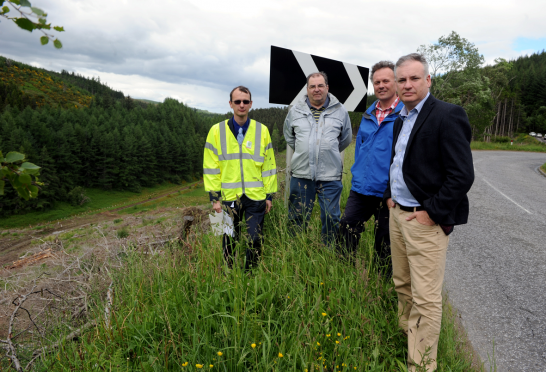 Moray's MSP wants police to consider upgrading a road in the region on safety grounds.
Residents have long-campaigned for crash barriers to be put up on the B9014 Dufftown to Keith road to prevent cars plunging down a steep slope.
Moray Council has carried out risk assessments at the Parkmore Brae bend but found it did not meet the criteria for barriers.
Now Richard Lochhead wants to meet the police's area commander, Chief Inspector Stewart Mackie to discuss road safety at the corner.
The MSP met residents on the road last month and now wants to put their concerns to the officer.
Mr Lochhead said: "At the visit, the council were fairly clear that they were not of a mind to install crash barriers on the bend and I was disappointed when the council confirmed that stance in their follow-up letter.
"The council's view of course is that risk assessments do not merit the installation of barriers."
More than 500 people have signed a petition calling for crash barriers to be built to prevent vehicles falling down the embankment if there is an accident.
Trees that used to line the corner have now been felled, prompting fears that if a motorist goes down the slope it could be some time before they are spotted.
Mr Lochhead said: "I am very aware that many regular users of the road will remain determined for protective measures to be taken, with the risk of ice and poor weather conditions in winter being of particular concern."
During the meeting with residents at the bend last month Moray Council officers explained they were willing to listen to concerns highlighted by residents and had put up more visible warning signs on the route.
Yesterday a spokesman for the local authority said he had nothing to add.
A police spokeswoman said: "Ch Insp Mackie is more than happy to meet with Mr Lochhead in relation to any road safety concerns or other local issues he has."