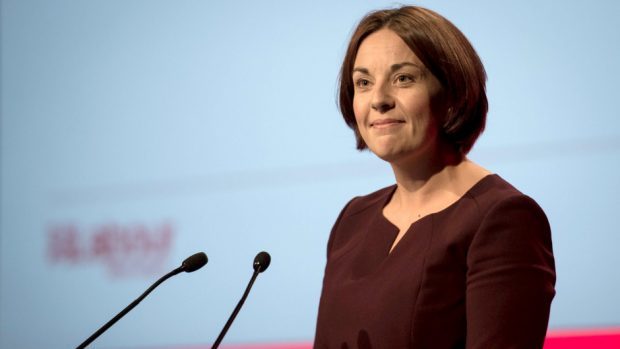 Scottish Labour Leader Kezia Dugdale has warned Nicola Sturgeon not to divide the nation again – and challenged the first minister to rule out a second independence referendum in the next five years.
The Lothian MSP said her party would vote against any proposal for a rerun of the 2014 vote in the current parliament.
She also attacked the Scottish Conservatives' leader in her main conference speech, declaring: "Don't let Ruth Davidson ever tell you again the Union is safe in Tory hands."
And she accused the Conservatives of the "worst type of constitutional vandalism" by bringing in English Votes for English Laws which she claimed had created two classes of MP.
Aberdeen-born Ms Dugdale said she did not doubt Ms Sturgeon's passion for Scotland.
But she added: "But when the choice is presented between independence or progress, she will always choose independence."
She pointed to the SNP leader's message on the second anniversary of the independence referendum when she insisted the issue "transcends" Brexit, oil and even national wealth.
"As socialists, we know that you need to have an economic strategy to match your politics," she added.
"In the face of a £15billion hole in our public accounts, a gap that would mean savage cuts to our public services, Nicola Sturgeon only has one answer – nationalism.
"That's not progressive, that's blind faith."
She continued: "Scotland faces enough risk and uncertainty with the Tory's reckless Brexit gamble.
"We do not need the risk and uncertainty of another independence referendum.
"That is why we will vote against any proposal for a second independence referendum in this parliament.
"My message to Nicola Sturgeon is this. First Minister, our country is already divided enough. Do not divide us again."
In a separate intervention, her colleague Neil Findlay echoed the leader's sentiments, cautioning party members against being "seduced" by the SNP.
"You can't pay your bills with a Saltire," he insisted.
After the speech, a source close to Ms Sturgeon asked: "What is the point of her getting up on the stage if she has got nothing new to say?"
A spokesman for the Scottish Conservatives branded Ms Dugdale's party "negative and divided".