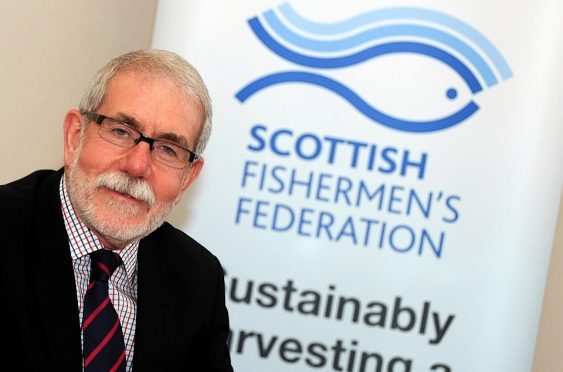 Industry chiefs have claimed the value of UK fishermen's catch could double after Brexit "in an ideal world".
Bertie Armstrong, chief executive of the Scottish Fishermen's Federation, said there was a "big prize to be won".
And he insisted Environment Secretary Andrea Leadsom had shown "no hint or indication" that access to British waters would be traded away in their meeting yesterday.
But he accepted some within the UK Government might be prepared to do so and acknowledged the "realistic expectation" other EU states would push back hard in the Brexit negotiations.
Mr Armstrong and other industry representatives also met Fishing Minister George Eustice during their trip to London.
Afterwards, Mr Armstrong said the UK ministers had agreed the skeleton of a new "fit for purpose" framework to replace the EU fisheries policy should be drawn up by the end of the year.
Of the £800million pounds worth of fish caught in British waters over the past four years, on average £400million has been taken home by foreign vessels.
Mr Armstrong said there would be substantial "material benefit" in regaining control of this area – known as the exclusive economic zone (EEZ).
Prescribed by the United Nations Convention on the Law of the Sea, it stretches out 200 nautical miles from the coast.
The SFF head was reluctant to quantify the gain, but added: "We make the observation that more than half the fish in our EEZ leaves not in our beneficial hands but those of other EU countries.
"Since we joined the European Economic Community as it was, it has never been managed for the benefit of the coastal state.
"So we would see a great deal of benefit. How much of that is restored immediately, what the timescale is, it would be silly of us to guess. But recognise this – there is a big prize to be won."
Asked if it would be fair to say Brexit could mean the value of the UK catch doubles, he replied: "In an ideal world, yes. Those are the figures."
But he added: "There is a realistic expectation by us that there will be those that wish to do that [trade away rights], and that our European allies will fight as hard as they can."
On creating a UK replacement for the common fisheries policy (CFP), he said: "By Christmas time there will need to be some kind of skeleton of what will replace it."
Mr Armstrong confirmed both Mrs Leadsom and Mr Eustice were on board with that timetable, adding they were "singing from the same hymn sheet".
A UK Government spokesman said: "We are working closely with the fishing industry on a future package."
The industry delegation also met Scottish Brexit minister Mike Russell and Fergus Ewing, rural economy secretary, in Holyrood yesterday.
Afterwards, the latter said he was committed to ensuring Scotland's interests are at the heart of any decisions taken about fishing in the discussions with the EU.