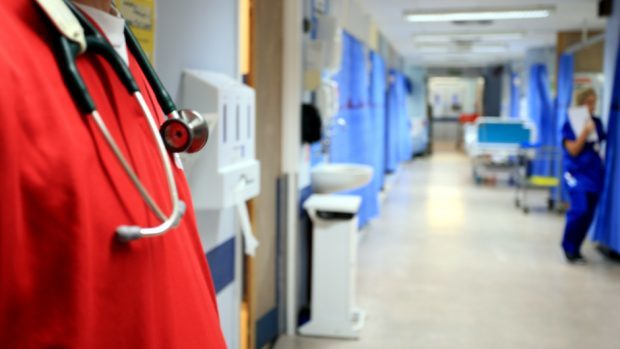 A 14-year-old girl who wanted her body to be preserved in case she could be cured in the future won a historic legal fight shortly before her death, it has been revealed.
The teenager was terminally ill and had wanted her remains to be frozen in the hope that she could be brought back to life.
But her divorced parents became embroiled in a dispute relating to whether her remains should be taken to a specialist facility in the United States and cryogenically preserved.
The girl, who lived in the London area with her mother and had a rare form of cancer, had taken legal action.
She had asked Mr Justice Peter Jackson to rule that her mother – who supported her wish to be cryogenically preserved – should be the only person allowed to make decisions about the disposal of her body.
Mr Justice Jackson had made the ruling she wanted – following a private hearing in the Family Division of the High Court in London – shortly before she died.
But the girl's solicitor, Zoe Fleetwood, said on Friday that Mr Justice Jackson had ruled on a dispute between parents – not on people's rights to have their remains frozen.
"This is not a legal landmark on cryopreservation," said Ms Fleetwood, who is based at Dawson Cornwell.
"It is a ruling on a dispute between parents."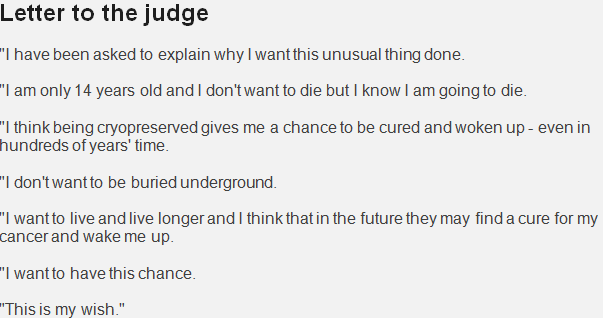 Ms Fleetwood said the teenager had described Mr Justice Jackson as her "hero" after learning of his decision days before she died in October.
She said the youngster had "extraordinary" determination and said it had been a privilege to represent her.
Mr Justice Jackson had said that nothing about the case could be reported while the teenager was alive, after she said media coverage would distress her.
He also ruled that no one involved could be identified – again in line with the girl's wishes.
She had been too ill to attend the court hearing.
The teenager had been represented by lawyers and had written to the judge explaining that she wanted a chance to "live longer".
Mr Justice Jackson had also visited her in hospital.
The judge said he had been moved by the "valiant way" in which she had faced her "predicament".
He said the girl's application was the only one of its kind to have come before a court in England and Wales – and probably anywhere else.
The judge said the case was an example of new questions science posed to lawyers.