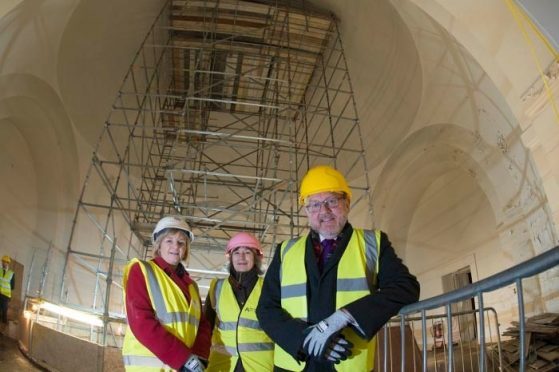 Scottish Secretary David Mundell has said the project to renovate Aberdeen Art Gallery exemplifies the "very best of things".
On a visit to the Granite City, the Tory frontbencher praised the use of fines levied on banks for the "worst of things" to help fund it.
Chancellor Philip Hammond announced a £1.5millon boost for the restoration of the Remembrance Hall in his Autumn Statement last month.
A space for contemplation and commemoration, it is part of the complex that includes the gallery and Cowdray concert hall which is undergoing a £30million revamp.
Yesterday, Mr Mundell toured the project to learn about how the money will be spent.
Afterwards, he said: "I think it's a really appropriate use of Libor money.
"What the UK Government is trying to do is use fines from banks for doing the worst of things to support people and projects that exemplify the very best of things.
"The project provides a very fitting environment for remembrance contemplation but it's also a pivotal part of the rejuvenation of the art gallery and Cowdray Hall.
"It complements all of that and the cultural regeneration in Aberdeen."
Scotland's only Tory MP also praised the plan to retain the historic building's structure while giving it a contemporary relevance.
And he commended the proposals to improve access for people with mobility issues.
Unveiling the funds, Mr Hammond said: "It is completely right the money we've collected from banks for fines continues to be put to vital causes all over the country.
"As we've seen from remembrance services, it is so important to pay tribute to the sacrifices made during the wars, and honour our veterans, which this Hall of Remembrance will do."
A focal point for Remembrance Day, it is not often visited at other times.
But it is hoped the renovations will bring more people through the doors, and help them learn more about the sacrifices of soldiers from the north-east.
One of the main attractions will be a Gallery of Memories on the new first-floor balcony, chronicling the stories and memories of people from the north-east relating to conflict.
Two thirds of the £30million needed is being funded by Aberdeen City Council and the Heritage Lottery Fund.
The aim is to collect the remaining £10million from a fundraising campaign.