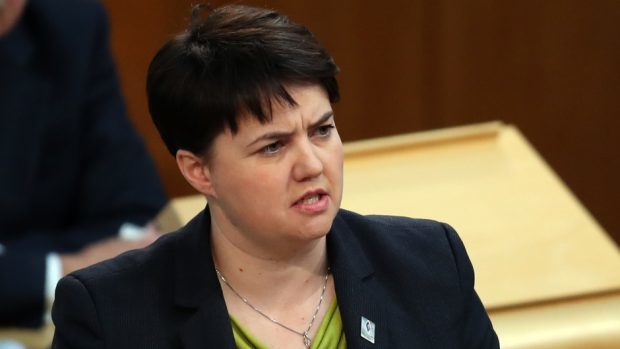 The Scottish Government has come under renewed pressure to intervene to save firms "staring down the barrel of a gun" as a result of forthcoming business rates rises.
Scottish Conservative leader, Ruth Davidson, has called for an urgent parliamentary statement on the issue.
And Scottish Liberal Democrat leader, Willie Rennie, also hit out at the SNP administration, insisting a transitional scheme was required to give businesses time to appeal their valuations.
Meanwhile, Scottish Labour's Jackie Baillie insisted the government had a duty to engage with companies.
A revaluation of rates is currently being carried out by the Scottish Assessors Association, with the changes due to take effect on April 1.
This precedes a Scottish Government review of the rates system, led by former RBS Scotland chairman Ken Barclay, which will report its findings in the summer.
Companies across the north-east are facing crippling rises of up to 250% and some have said they could go bankrupt without relief.
Ms Davidson demanded that Finance Secretary, Derek Mackay, be quizzed by MSPs, amid warnings that some firms who are unable to pay increased charges will refuse to do so.
She said: "While Nicola Sturgeon obsesses with Brexit and independence, Scottish companies, large and small, are staring down the barrel of a gun."
Mr Rennie argued a transitional scheme was favoured by businesses, adding: "It's a shame the SNP aren't listening."
And Ms Baillie, Scottish Labour's economy spokeswoman, added businesses were "clearly losing confidence" with the SNP Government.
However, a Scottish Government spokesman defended its actions, pointing to a "package" of measures to reduce business rates presented to Holyrood as part of the draft budget.
He added: "The overall business rates poundage – the core tax rate that applies to the rateable value of business properties – will also be cut by 3.7% to 46.6p."
The spokesman insisted rating valuation is carried out by independent assessors rather than the Scottish Government.
He continued: "Each council retains all the business rates revenue it collects, and it is for councils to apply rates reductions, on top of existing statutory reliefs, as they see fit.
"Individual business rate payers can appeal their valuation via independent processes if they feel it is incorrect."
The Scottish Tourism Alliance has also written to Nicola Sturgeon urging her to intervene and will meet Scottish ministers later this month.
Paul Waterson, chief executive of the Scottish Licensed Trade Association, called the situation the industry's "poll tax moment", in reference to the boycott of Margaret Thatcher's community charge in 1989.