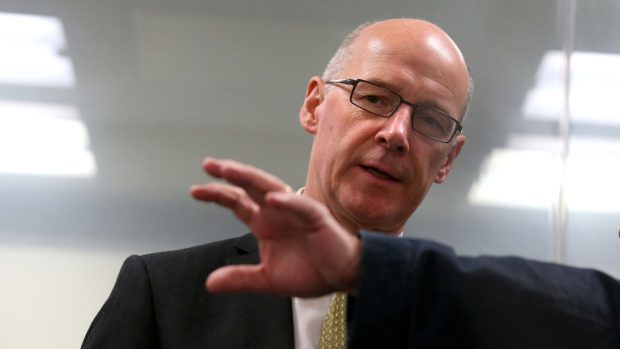 John Swinney knocked back calls to ditch the controversial Named Person scheme as he revealed a further delay to its roll-out.
The deputy first minister outlined plans to MSPs yesterday to beef-up the legislation after the Supreme Court ruled it was incompatible with human rights.
The scheme was supposed to come into force in August last year, before it was put back to the same month this year in light of the court judgement.
Mr Swinney now predicts it will be up-and-running in 2018, which he said would give Holyrood enough time to properly legislate.
The Tories called for the "hated" scheme to be scrapped entirely.
Every child in Scotland will be assigned a Named Person – normally a teacher or health worker – under the proposals in the Children and Young People (Scotland) Act 2014.
Their role is to promote, support or safeguard the "wellbeing" of children, but critics warn the system will intrude into family life, divert resources away from vulnerable children and impose even harsher work burdens on teachers.
Mr Swinney said that well as imposing an "explicit duty" on Named Person providers and other public bodies to properly consider when and how to share information, the rules for doing so will be made clear by improved provisions in the bill and more extensive guidance.
"Young people and families should have confidence that information will be shared only where this can be done in a manner which respects their rights under data protection law, human rights and the law of confidentiality," he said.
He added the Supreme Court ruled that the Named Person service was "unquestionably legitimate and benign".
The judges found that provisions relating to information sharing were not clear enough and therefore incompatible with Article 8 of the European Convention on Human Rights, which protects children against "unjustified interference by the state".
They said the act appeared to endorse a "more relaxed approach to disclosure than is compatible with Article 8".
Liz Smith, for the Scottish Conservatives, said: "Rather than muddy the waters even further, John Swinney should scrap this policy once and for all."
Scottish Labour's Iain Gray said Mr Swinney's statement has done "nothing to restore much-needed trust".
He warned against increasing workloads for teachers and called for 16 and 17-year-olds to be exempted from the scheme.
The new bill will be presented to MSPs before the summer recess in July, Mr Swinney said.