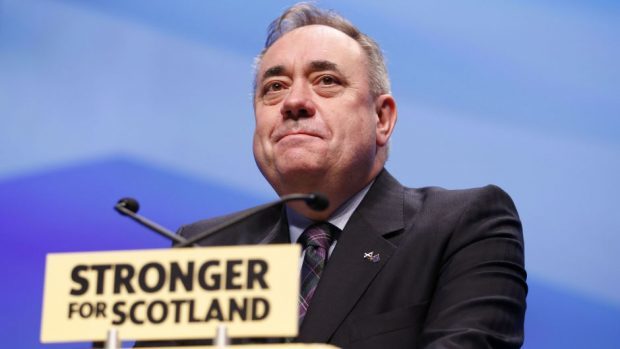 A row erupted last night over the viability of Scotland's economy outwith the UK, amidst the oil downturn.
Former first minister Alex Salmond insisted yesterday that a price of $60 a barrel would give the country a strong economic standing.
But Scottish Labour accused him of "pie-in-the-sky economics" and warned him to stop trying to sell "snake oil" to the Scottish people.
The North Sea is currently enduring its second year of industry downturn, which has led to the loss of more than 100,000 jobs.
In that context, Mr Salmond said the fact Scotland's unemployment is around 4.7% showed "a substantial degree of resilience".
In a TV interview, he added: "At $60 a barrel, Scotland would be the fifteenth country in the world per wealth per head.
"We would be better off than the other 185 countries … one place ahead of the UK incidentally."
Asked if Scotland would be viable as an independent country at that price, he replied: "Yes."
But Jackie Baillie, Scottish Labour's economy spokeswoman, accused the ex-SNP leader of "desperately" trying and failing to "balance the books on his separation fantasy".
She added: "People in Scotland were rightly relieved when they thought Alex Salmond had put his crystal ball away for a generation.
"It clearly didn't work first time round – recent analysis has shown the SNP's sums on oil could have been out by £21billion in the first two years of independence.
"We know an independent Scotland would face a £15billion deficit, causing massive tax hikes and cuts to valued public services.
"Alex Salmond should stop trying to sell the people of Scotland snake oil and get on with representing the north-east."
A spokesman for Mr Salmond said the point he had been making was that even with oil at $50 per barrel, Scotland's wealth per head made it the 15th most prosperous nation in the world.
He added: "To argue that it is not economically attainable is ludicrous and one of the reasons that Labour has become the dodo of Scottish politics – staring extinction in the face.
"Jackie Baillie knows next to nothing about the oil industry in the north of Scotland.
"If she did, she would understand the anger felt by hundreds of oil workers at successive Labour and Tory governments taking billions out of the North Sea and refusing to put anything substantial back when times are tough."