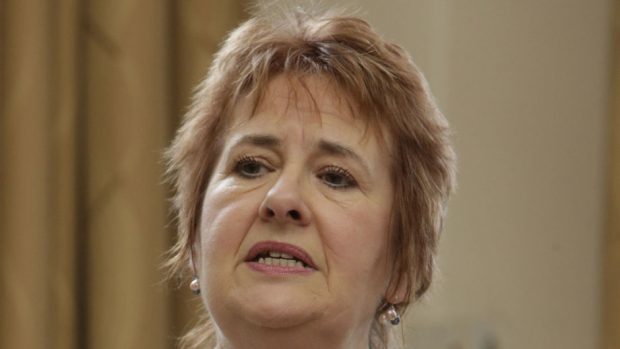 Nicola Sturgeon has backed her Environment Secretary Roseanna Cunningham following chaotic scenes as a Holyrood independence debate was stopped because of the London terror attacks.
Perthshire South and Kinross-shire MSP Ms Cunningham refused to apologise six times after being caught on camera shouting and pointing at Tory MSPs on Wednesday afternoon.
She was seen jabbing her finger at Conservative MSPs, who moved to have the debate suspended.
Witnesses said she angrily shouted it was an "absolute disgrace" that proceedings were being suspended, as it was giving in to terrorists.
MSPs on the Tory benches also claimed she said: "This is because you don't want to talk about independence".
This was denied vigorously by both a spokesman for Ms Cunningham and the first minister's spokesman, but SNP MSPs close to the scene refused to refute it when challenged yesterday.
Following First Minister's Questions, where Ms Sturgeon said Holyrood stands in solidarity with "wonderful" London following the "heinous" attack on Westminster, Ms Cunningham refused to say sorry on six occasions, and did not deny the independence remark.
She would only say: "You have the comment," in reference to a statement issued by the SNP press office.
That statement read: "Roseanna's first thoughts are with all of those affected, and while she did initially take the view – shared by some from other parties – that business should not be suspended in the face of terrorism, she fully supports the decision, given the seriousness of events."
Asked later if Ms Sturgeon had confidence in Ms Cunningham, the first minister's official spokesman said: "Yes".
He denied Ms Cunningham mentioned independence, adding: "She never expressed any such view."
In a sombre FMQs, Scotland's political leaders united to offer condolences to those affected and pay tribute to the emergency services.
Ms Sturgeon, who stressed there is no specific terror threat on Scotland, said there is an increased police presence on the streets which includes a "significant uplift in armed officers on duty".
Leaders warned against finding a scapegoat for Wednesday's attack, in which four people died, including policeman Keith Palmer and the attacker.
Scottish Conservative leader Ruth Davidson sent "deep condolences" to those affected and expressed gratitude to the emergency services and security staff.
Scottish Labour leader Kezia Dugdale said: "No matter the religion, nationality or identity of the attacker, this cannot and must not turn into a war on any one community."
Patrick Harvie, the co-convener of the Scottish Greens, spoke out against those manipulating Wednesday's tragic events to spread hatred.
Scottish Liberal Democrat leader Willie Rennie, a former MP who walked over Westminster Bridge on a daily basis, spoke about how the tragedy had affected him personally.