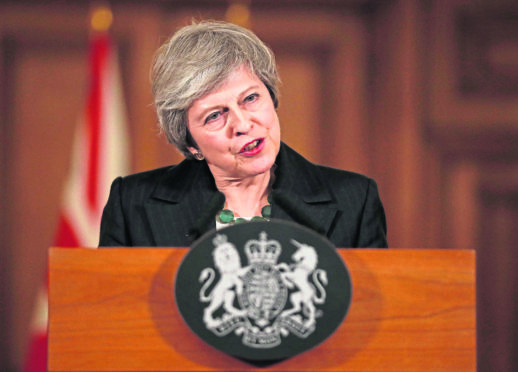 A defiant Theresa May vowed last night to see the Brexit process through – despite an emerging plot for her to be ousted and a string of ministerial resignations.
The Tory leader defended her plans for three hours in the Commons, before taking to the airwaves to declare she will not give up.
Asked about her determination to carry on, Mrs May likened herself to former England cricketer Geoffrey Boycott who "stuck to it and got the runs in the end".
---
>> Keep up to date with the latest news with The P&J newsletter
---
Speaking at a press conference at Number 10, she said: "I believe with every fibre of my being that the course I have set out is the right one for our country and all our people.
"Leadership is about taking the right decisions, not the easy ones."
Her comments came as European Council President Donald Tusk announced an extraordinary summit in Brussels on November 25 to finalise the UK's withdrawal agreement.
MPs repeatedly warned the prime minister yesterday, however, that she will not get it through parliament.
She rejected claims she is in denial about her fate or the fate of Brexit.
Rebutting criticism of the deal on the table, she said no-one had come up with an "alternative" that delivers on both the referendum result and ensures there's no hard border between Ireland and Northern Ireland.
She added: "There is another inescapable fact – there is no deal which can be agreed with the EU that does not involve a backstop to act as an insurance policy against a return to the borders of the past in Northern Ireland."
It was a torrid day for the prime minister, with Dominic Raab resigning as Brexit secretary early on and Esther McVey quitting as work and pensions secretary soon after.
Meanwhile, Brexiteer-in-chief Jacob Rees-Mogg has submitted a letter of no confidence in Mrs May.
She also came under fire on all fronts as she updated the House following Wednesday's marathon five-hour cabinet meeting where a "collective" decision was reached to sign off on the deal.
Labour leader Jeremy Corbyn called the agreement a "huge and damaging failure", while DUP Deputy Leader Nigel Dodds – whose party props up Mrs May's government at Westminster – said the choice was standing up for the integrity of the UK or watching it break-up.
SNP Westminster Leader Ian Blackford urged Mrs May to "stop the clock and go back to Brussels", also revealing Scotland is not mentioned once in all of the 585 pages.
The prime minister retorted that Scotland is not specifically mentioned because it is part of the UK.
After a number of questions from Scottish MPs asking for clarification on fishing, Mrs May insisted the UK Government would not accept any linkage between trade and access to UK fishing grounds.