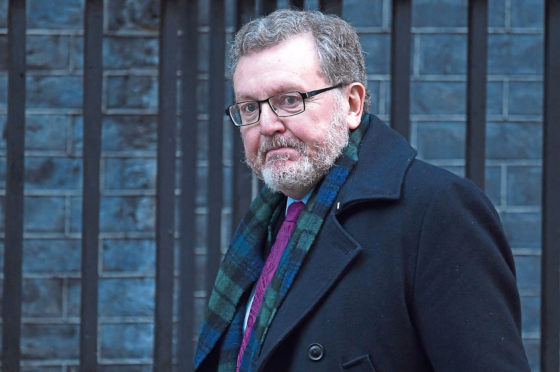 Scottish Secretary David Mundell has insisted he will not be "bounced into resigning" by "carpetbagger" Cabinet colleagues after a string of ministers quit in protest at Theresa May's deal.
The Tory frontbencher, who has backed the prime minister, branded former Brexit secretary Dominic Raab – the big casualty – a late convert to Unionism.
Stepping down the morning after the night before, Mr Raab said he had made his decision on the grounds the draft Brexit withdrawal agreement undermines the integrity of the UK.
---
>> Keep up to date with the latest news with The P&J newsletter
---
His departure was the most high-profile of a number yesterday, although within hours the focus had switched to arch Brexiteer Jacob Rees-Mogg who has sent a letter demanding a vote of no confidence in Mrs May.
Rumours have also emerged that Michael Gove could become the new Brexit secretary, although there were simultaneous suggestions he too might stand down.
According to reports, the current UK environment secretary will only agree if he can renegotiate the deal.
Northern Ireland minister Shailesh Vara was the first to go yesterday, followed by Mr Raab and then Work and Pensions Secretary Esther McVey.
Brexit minister Suella Braverman also stepped down, as did Anne-Marie Trevelyan, a parliamentary private secretary in the Department for Education.
Ranil Jayawardena, parliamentary private secretary at the Ministry of Justice, followed suit.
Shadow Scottish secretary Labour's Lesley Laird called it "farcical" that the Brexit secretary had resigned while the Scottish Tories "remain silent".
But Mr Mundell dismissed his former cabinet colleague as a "carpetbagger" whose resignation was "about manoeuvring and leadership".
He said Mr Raab had a "latter-day commitment to the Union", adding he was instead focussed on ensuring the deal delivers for Scotland and the rest of the UK, rather than being "part of some sort of soap opera of resignations".
"I am not going to be bounced into resigning by carpetbaggers," he declared.
Meanwhile, in chaotic scenes at Westminster, Mr Rees-Mogg, leader of the European Research Group (ERG), went on the offensive, accusing the prime minister of not implementing what the British people had voted for in 2016.
He insisted he was not offering his name as leader and that the coup he denied was a coup which had "nothing to do with the ambition of Brexiteers" but the "ambition of Brexit for this country."
To trigger a vote of no confidence, 15% of Tory MPs – 48 in total – must write to the chairman of the Conservative backbench 1922 Committee, Sir Graham Brady.
If this threshold is reached, then a vote would be held among Tory MPs, with Mrs May needing the support of more than 50% of the 315 Conservatives to stay in office.
Not all of the Brexiteers are in agreement with Mr Rees-Mogg, however.
Aberdeen South MP Ross Thomson said a leadership challenge would not be helpful, although, asked if he would find it difficult to back Mrs May in the event of a vote, he replied: "Yes."