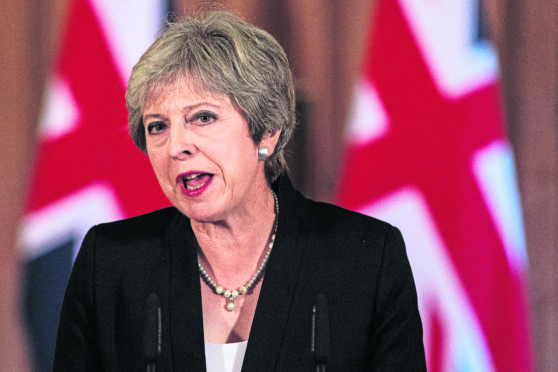 Theresa May will today embark on the final hard sell of her Brexit deal amid ferocious opposition from all sides to her plans.
The Tory leader will take to the Commons Despatch Box to open five days of debate, the outcome of which could seal her fate as prime minister.
In a last-ditch attempt to convince MPs to back the withdrawal agreement and political declaration, Mrs May is expected to say her offer will set the UK "on course for a better future outside the EU".
She will also tell the House that to deliver on the 2016 referendum vote, parliament needs to deliver a deal that "respects the decision of the British people".
She will say: "The referendum was a vote to bring our EU membership to an end and to create a new role for our country in the world.
"To deliver on that vote, we need to deliver a Brexit that respects the decision of the British people. A Brexit that takes back control of our borders, laws and money.
"And a Brexit that sets ourselves on course for a better future outside the EU, as a globally trading nation, in charge of our own destiny and seizing the opportunities of trade with some of the fastest-growing and most dynamic economies across the world."
Her appearance ahead of the crunch so-called "meaningful vote" on December 11 comes after multiple previous statements and a tour of the UK to rally support.
Yesterday, updating MPs on the G20 summit, Mrs May declared Britain would be a "bold and outward-facing nation" after Brexit, insisting she had attended the gathering of world leaders with the "clear message Britain is open for business".
She also revealed she had discussed future trade deals with Canada, Australia, Chile, Japan and Argentina, which hosted the meeting.
But SNP Westminster leader Ian Blackford questioned Mrs May's ability to do so before the end of the transition period or during any time the insurance backstop arrangement applies if it is activated.
Responding, the prime minister said the Ross, Skye and Lochaber MP was "not correct", insisting the UK would be able to "negotiate, sign and ratify trade deals" during transition that would then come into force "at the end of the implementation period".
But speaking afterwards, he urged the PM to admit her deal "brings into question our future trading relationships".
Meanwhile, Labour Leader Jeremy Corbyn said Britain's trade policy must be led by "clear principles that do not sacrifice human rights".
Earlier in the day, during a TV interview, a defiant Mrs May predicted she would still have a job in two weeks' time.
And asked if she was "knackered" after her busy schedule trying to convince the public of the deal's benefits, she admitted it was a "tough time", but said she is driven by staying focused on the "end point" of "getting a good deal through for the UK and delivering on what people voted for".
She added: "At the end of the line it is, I think, about holding our nerve and getting this over the line so we can deliver on Brexit and people can have that better future."
Pressed on whether she would resign if the Commons rejects her deal, Mrs May said: "I'm focusing on, you know, getting that vote, and getting the vote over the line."