The famous Christmas Truce football match between British, French and German soldiers was recreated in Belgium yesterday.
Local men from the town of Ypres dressed up in World War I uniforms to mark the moment 100 years ago when both sides laid down their arms and emerged from their trenches in a rare moment of humanity.
The match took place in a park outside Messines near the stretch of no man's land between the allied and German lines where the original kick-about took place a century ago.
Visitors from across the north and north-east were among about 200 people who took part in or watched the game as part of a Christmas Truce event organised by Edinburgh-based Mercat Tours International.
They exchanged gifts like chocolate and whisky with local people just like soldiers on both sides of the conflict did during the unofficial truce.
The trip – organised by company owner Des Brogan who is a former history teacher – was particularly poignant for the Mackenzie family – mum Fiona, dad Donald, sons Euan and Kenneth and daughter Katie – of Chestnut Road, Dingwall.
Euan is a piper and he took part in the Last Post ceremony at the Menin Gate, a war memorial in Ypres which features the names of nearly 55,000 soldiers who were missing in action.
The 22-year-old Aberdeen University zoology student wore medals belonging to his great-grandfather Donald Mackenzie of Rosehall, Sutherland who was in the Seaforth Highlanders and fought near Ypres.
The ceremony, which featured three buglers and wreath laying, has been performed every night at 8pm since 1928, only pausing during the Nazi occupation years.
Euan, who wore the Mackenzie tartan and three medals on his chest, said: "My great grandfather was a piper himself and I like to think he would have been very proud.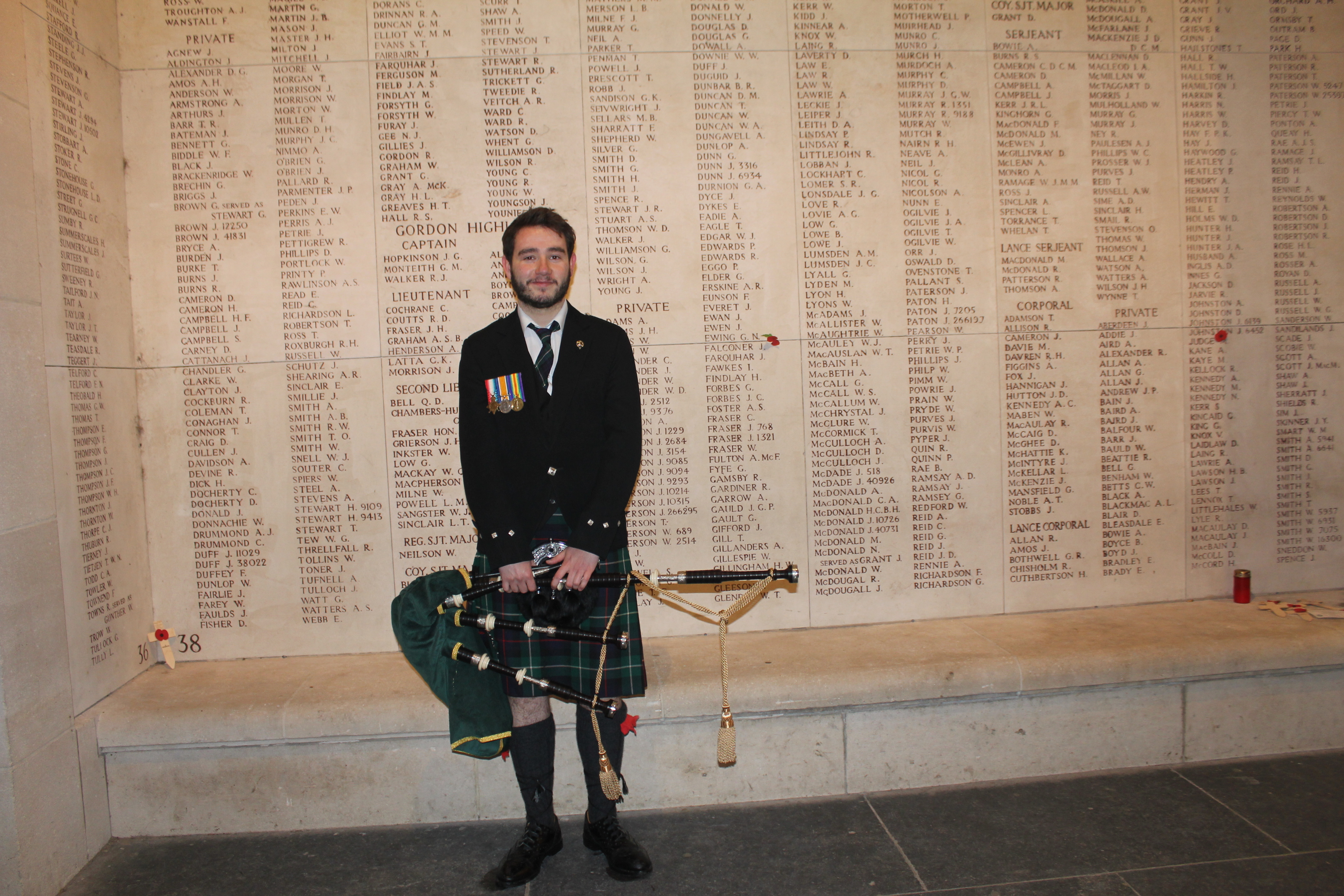 "It was a great privilege to have been invited to take part in a ceremony on such an auspicious day."
Donald Mackenzie, who works for Highlands and Islands Enterprise, said he found the ceremony "very moving"
"I am named after my grandfather and Euan is Euan Donald Mackenzie," he added.
"We got my grandfather's medals restored because he and his two brothers all saw service in Ypres at the same time during the early months of the war.
"Fortunately all three came back home again which for a small community in Sutherland was quite remarkable.
"So to see my son actually there piping at the ceremony was incredibly moving."
Mrs Mackenzie, a Gaelic singer who performed at a special concert in the Cloth Hall in Ypres on Boxing Day, said watching her son perform was an "incredibly proud and poignant moment".
The so-called Christmas Pals trip also involved tours of allied and Germany cemeteries, a candlelit procession to the front-lines near Messines and a Christmas carol concert.
Visitors were also given a tour of Sanctuary Wood near Ypres where an original trench network can be seen and explored.
Kathleen Brogan of Mercat Tours International said the trip represented a "once in a century" opportunity to mark the Great War.
"It is about recreating the sense of what the men went through, remembering it and reflecting upon it," she added.
"We have more than 180 people on the tour which is incredible because Christmas is all about family and being at home all cosy and warm.
"For them to leave that behind shows that they understood what the boys did 100 years ago when they went off to war."
The proceeds from the trip, after costs, were donated to Poppy Scotland, which supports armed forces veterans.
Colin Flinn, the organisation's head of fundraising, said: "Poppy Scotland was created out of World War I so being involved in the Christmas Truce is very important
"I think it is fantastic and the event has been perfectly pitched to commemorate and remember but also to say we have to move on and try and ensure World War I never happens again."