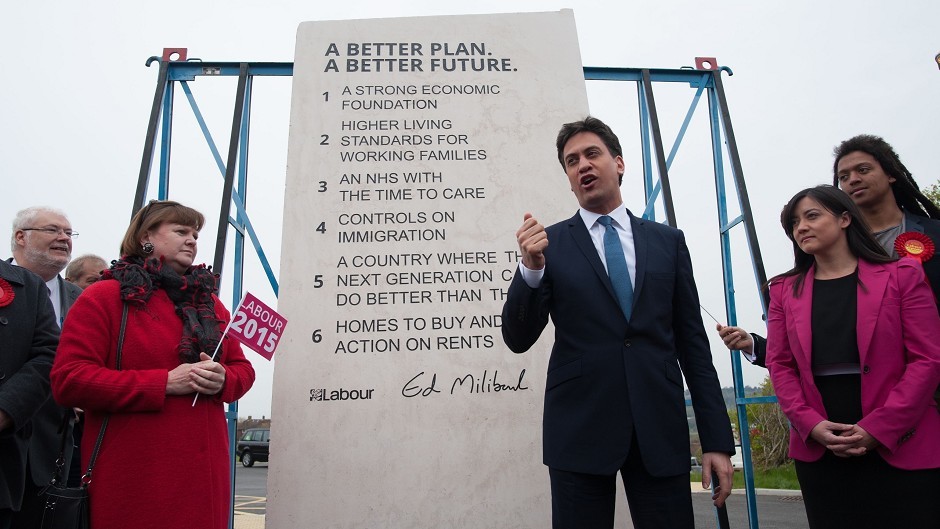 The large stone slab emblazoned with key Labour pledges that went on to symbolise the party's election failure before disappearing from public view has been discovered at a warehouse in London.
Ed Miliband's 8ft 6in monolith was engraved with electoral pledges and was destined to reside in 10 Downing Street had the Labour leader made it inside the famous black door himself.
The slab, ridiculed as a gimmick following its unveiling in the election campaign's final days, mysteriously disappeared after the Conservatives swept to power.
But the Daily Mail newspaper have since reported it is being kept at a south-east London warehouse – and that the boss of the stonemasons which inscribed the six pledges is a Tory voter.
A worker at the warehouse in Woolwich said: "You wouldn't be able to find it in there if you wanted to. Everything is boxed up or wrapped, so it's hard even for me to tell one from another."
Jeff Vanhinsbergh, joint director of stone conservationist Paye, which owns the warehouse, said he was unable to discuss details of the making of the stone or its cost because he had signed a confidentiality clause with the Labour Party.
But he joked: "If it was David Cameron it might be a different story. I'm a true blue. It does seem that stone was the final nail in the coffin for Ed Miliband.
"I do feel a bit sorry for him as I'm sure it wasn't his idea and he was just doing what his strategists told him. But whoever did come up with the idea… oh dear. It looked like he was trying to recreate the Ten Commandments."