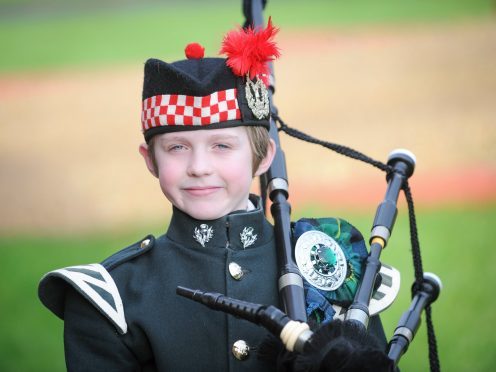 A brave little boy with cystic fibrosis has been given a new lease of life – after learning to play the bagpipes.
Vincent Forkner has battled the life-threatening lung condition since birth, having to take daily medication and undergo regular respiratory physiotherapy.
But after becoming "obsessed" with Scotland on a family holiday, the eight-year-old joined a Highland band last year and was determined to master the country's national instrument.
He was gifted his own set of £800 three-quarter size bagpipes by children's charity, Rays of Sunshine – and his family say they cannot believe what positive impact they have made.
His mother, Victoria Askey, said his lung capacity has drastically improved since he took up the instrument, describing him as a "very happy" little boy.
Vincent, who also has the debilitating muscle disorder cerebral palsy, has also used the pipes to regain the use of his left hand, which was previously unable to work.
"We didn't have a clue that the bagpipes would help his breathing. I had no idea if he'd be too weak to play them – I didn't know if he'd have enough puff," said Mrs Askey, 42.
"The highest lung function he's reached so far was 122, and when he started he was only at 87.
"We tried to look for other cystic fibrosis sufferers who play the bagpipes, but we could only find one person – a 16-year-old boy in Scotland. I've spoken to his mum and apparently he's doing really well.
"Vincent is a very stubborn and determined boy – if he can't do it the way we do it, he'll figure out a way. He's very head strong.
"So he decided he would sit down every morning. He just practised and practised and practised until he could hold it.
"I'm so proud of him. He doesn't let it hold him back."
Vincent, who lives at Ramsey near Peterborough, is the youngest member of Peterborough Highland Pipe Band, in which his older brother Travis, 12, plays the snare drum.
"The boys have both really grown in confidence since joining the band. They have rehearsals twice a week," said their mother.
"There is quite a big age difference between them and the other members of the band – they're the two youngest, then there are two 17-year-olds, and everyone else is older. The oldest person is over 90.
"They've been amazing people. They teach Vincent for free.
"One lady even adapted the uniform for him because they've never had anyone that small in the band before.
"When he learnt his first whole tune, Amazing Grace, he went around school and played it in every single class. He barely had any puff left by the time he reached year six."