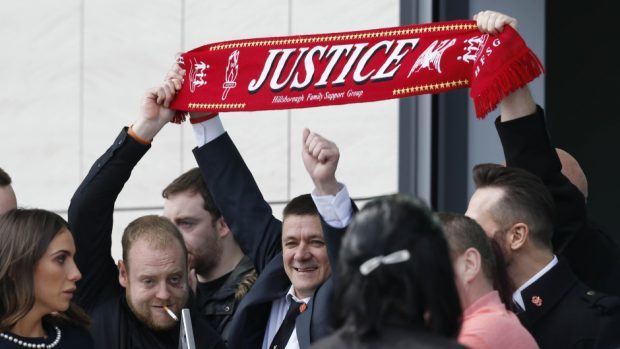 Home Secretary Theresa May has confirmed a range of criminal offences are being investigated in respect of the Hillsborough disaster.
The Tory frontbencher also praised the dignity and determination of the victims' relatives in a Commons statement yesterday.
After reading the inquest jury's findings in full, she outlined the offences under investigation, which include gross negligence manslaughter, misconduct in public office, perverting the course of justice and perjury.
In addition, offences under the Safety of Sports Grounds Act 1975 and the Health and Safety at Work Act 1974 are also being considered, she told MPs.
It is ultimately up to the Crown Prosecution Service (CPS) whether to proceed with charges.
Former first minister Alex Salmond said the "real evil" lay in the 27 years since the "tragic and unintended" disaster, adding: "There have been deliberate lies and deception."
The Gordon MP was one of many to speak in the highly emotional debate which also included a contribution from Labour's Steve Rotheram, who was at Hillsborough supporting Liverpool on the day of the tragedy.
He said those who doubted the fans' account must now recognise their self-sacrifice and heroism.
SNP home affairs spokeswoman Joanna Cherry said the disaster ranked alongside Bloody Sunday as "one of the most disgraceful Establishment cover-ups" in recent times.
And former attorney general Dominic Grieve, who applied to the High Court to have the original inquest verdicts quashed, said the families and the independent review panel had been "entirely vindicated".
Shadow home secretary Andy Burnham, a longstanding campaigner on behalf of the families, called on Mrs May to end the "scandal" of police officers avoiding prosecution through early retirement, suggesting a "Hillsborough clause".
She said the government was already bringing forward changes but would be happy to meet Labour to discuss them further.