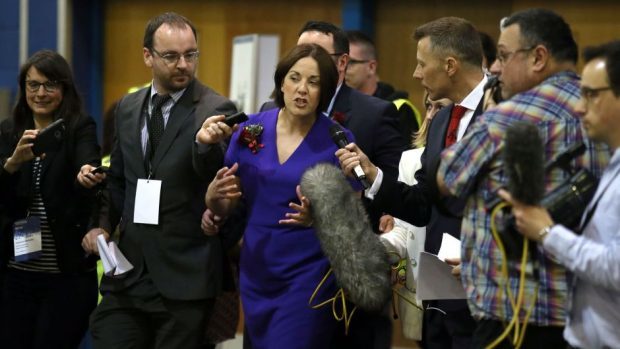 Jeremy Corbyn pledged to walk "hand-in-hand" with Scottish Labour yesterday as Kezia Dugdale spoke of her heartbreak at the devastating result.
For so long the dominant force in Scottish politics, her party was shunted into a dismal third place behind Ruth Davidson's Tories.
As Labour suffered another drubbing – a year on from the near wipe-out at the general election – the Scottish Conservatives pulled off an historic feat to become the second biggest party at Holyrood.
David Cameron called it a "realignment", insisting it had now become clear Labour had "completely lost touch with the hard-working people they are supposed to represent".
In spite of the humiliating blow, Ms Dugdale vowed to remain as the leader of her party "no matter what".
Speaking after the final picture had emerged, Mr Corbyn, said: "There is a lot of building to do in Scotland.
"We are going to be with you. We are going to walk hand-in-hand with the party in Scotland to build that support up once again so that the Labour tradition in Scotland will be established once again … We are with you."
His warm words would have likely come as little comfort to Ms Dugdale, who had to rely on the Lothian regional list to be returned as an MSP, having failed to win in Edinburgh Eastern.
She said that after last May the election was "always going to be tough", but added: "I am proud that our campaign rose to the challenge of offering an alternative vision of what could be done in our new, more powerful parliament."
With the constitution now the dominant issue in Scottish politics, she said her "determination" to try to move the debate on from the 2014 independence referendum had cost votes.
Her policies included income tax rises for both the wealthiest Scots and basic rate taxpayers, arguing they were needed to prevent cuts in public services like schools and the NHS.
Ms Dugdale went on: "The work to renew the Scottish Labour Party so it is fit to serve the people of Scotland continues."
Asked how the idea of coming third made her feel, she replied: "Heartbroken, without question."
Labour lost all of the constituencies it had held in Glasgow to the SNP, a repeat of the fate it suffered at last year's general election.
But there was some good news in the constituency results, with wins for Iain Gray, Jackie Baillie and Daniel Johnson.